I know I have been bad. I have had 3 restaurants I wanted to review but it has been to long for me to write now a proper full review. So I will tease you instead with a quick note and pictures of each. Let's go to Syria, England and stay on the Terroir!
Kaza Maza
4629 du Parc
Montréal, QC H2T 1S1
(514) 844-6292
Up to now the only place to enjoy so Syrian food was Alep. But you can finally head to Parc Ave and try Kaza Maza. I love Syrian and Persian food. I like how you can make a meal out of appetizers called mezze. A very nice little find worth discovering….a new jewel I have found. Affordable enough.
Nuts, pomegranate and eggplant galore. And make sure to have a nice glass of Arak, the traditional licorice like drink diluted with water.
_________________________
Taverne Square Dominion
1243 Metcalfe
Montreal, QC H3B 2V5
(514) 564-5056
Very cool high class English pub decor, this location has actually quite a bit of history as it dates back tot he roaring twenties (the building, not the actual pub). We went here for Johanne's birthday. A warning: not cheap! But totally worth it once in a blue moon. On a Saturday night it is a cozy relax British epicurian experience while brushing arms with the beautiful people.
The expensive Orange Julep cocktail is worth the novelty once.Pics for this resto are from Bernard Reischl.
Here is the cold meat ploughman's plate. I had the salmon filet on a bed of asparagus and mushrooms. I have to say I cannot remember the last time I had such lovely fish in a restaurant. It was cooked perfectly and very juicy.
Must keep room for the Sticky Toffee pudding too served with an AWESOME homemade coffee ice cream.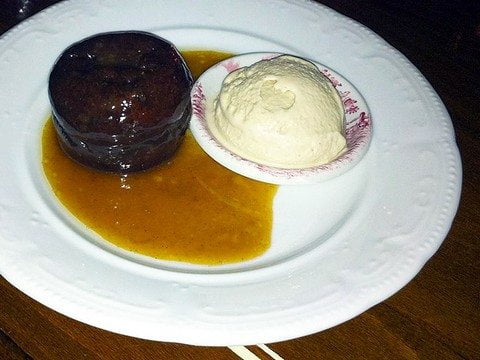 _________________________
Restaurant DNA
355 Marguerite D'Youville
Montréal, QC H2Y 2C4
(514) 287-3362
Actually I have been debating for some time if I should write this review. This restaurant right now is considered one of the darlings of Montreal Modern Huate Cuisine….it was a total let down for me. We celebrated the 1 yr anniversary of Montreal Food Bloggers here by a member who cannot speak highly enough of this place.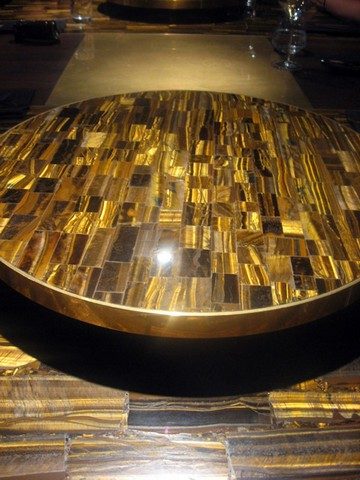 We got the private VIP room with a huge real Cat Eye table and personal waiters to us only..right by the kitchen. We opted (reluctantly for me) for the 85$ tasting menu. I am not accustomed to spending big bucks on food, this was an exception and I expected to get my socks knocked off. It failed. We also found out the chef was on holiday…they actually did NOT tell us that before hand and we freaking reserved under the name Montreal Food Blogger. Is it me or there is something wrong here????
Oh yeah…look at the last right column. I have never bee anywhere with wine prices so high…yes the last one is over $9,000!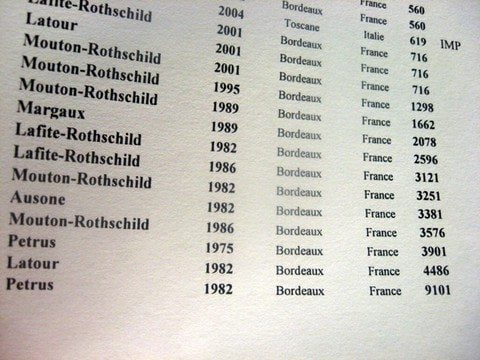 We were not allowed to know ahead of time what was being served. Every serving was a surprise.
1 bite of roasted yellow zucchini (was OK)
a cold meat platter (was good)
two different veal stomach tartars (pretty good)
a risotto plate (the rice was CRUNCHY and NOT fully cooked, are you kidding me?)
3 guinea hens, place, with a bit of bacon (blaaaannnnnnnnnndddddddddd and boring) with a rabbit stew (good) and 2 small salads to share for 10 people???
macadamia nut pie with ice cream (very good)
So sound impressive but it was a let down. It was NOT worth the price we paid and nothing had a WOW factor that I had expected. Were we just unlucky with the chef on holiday? I won't pay for a second opinion!