We are about half way through winter and here in Montreal that means one thing: the Montreal en Lumiere festival is just around the corner with loads of fun outdoor activities, shows and culinary treats.
Since we live in winter mode for so many months out of the year here in Montreal, we like to celebrate and even have a winter festival named Montreal en Lumiere. You will find all kinds of fun outdoor activities, many free, and lots of paid shows and food related events. But just an evening walking around the site is fun, just get a couple of snacks from the food stands and enjoy the lights! Just dress well to stay warm. Here is what this year's Montreal en Lumiere has to offer, from February 18 to March 5 2016.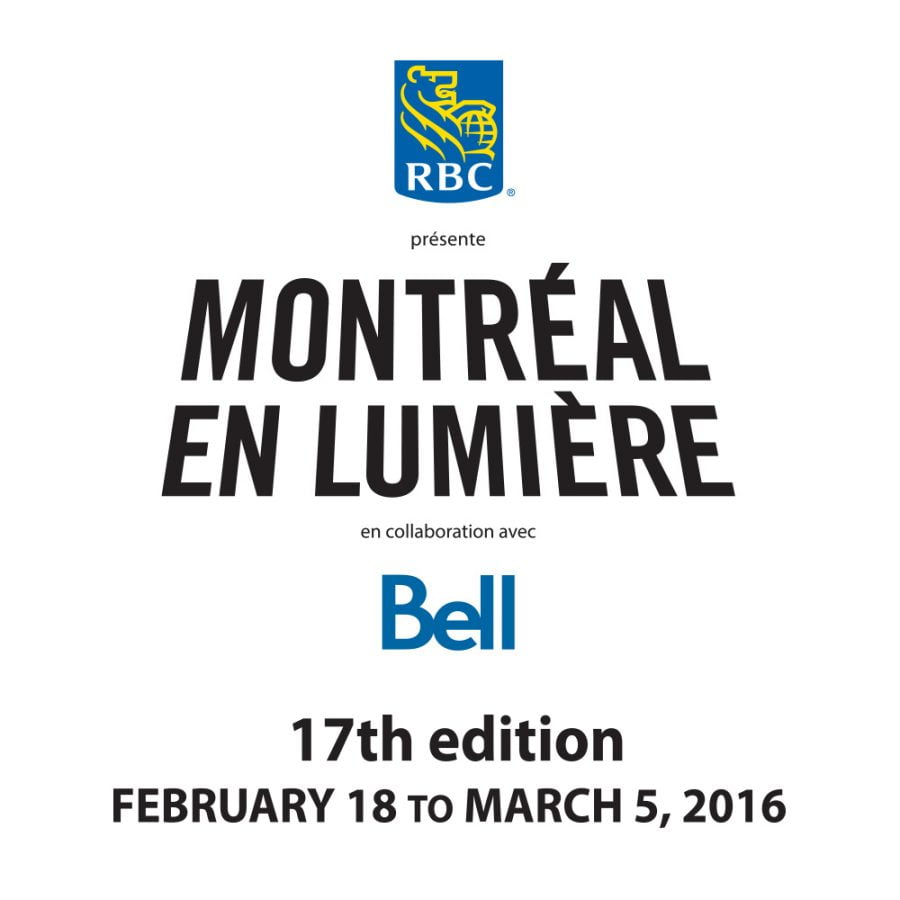 The free outdoor site of this 17th edition of MONTREAL EN LUMIERE, presented by RBC in collaboration with Bell, promises to be nothing short of magical! With completely reconceived lighting effects and displays, and a redesigned site extending beyond the Place des Festivals and the Place des Arts esplanade, fans will revel in a magnificent and dynamic playground packed with installations and activities for all, most of them free.
Of course, our new additions include an array of activities focused on our grand featured city, Shenzhen, a giant illuminated marionette show created specially for MEL and an exclusive avant-premiere of an installation from the immense Illuminart project, a panoply of technological works that will spring fully to life during the next edition of the festival, kicking off festivities for the 375th anniversary of Montreal. And let's not forget the great MEL "classics" including the urban slides, the famous Zip-line that allows fans to zoom over virtually the entire site from west to east, the ferris wheel and the Gourmet Pit-Stops, ready to once again tempt and amaze us with their inspired menus.
Shenzhen, our grand featured Chinese city
Our featured city (or country) has probably never been so beautifully represented on our outdoor site! First of all, it will be utterly impossible to miss the one hundred miniature Kongzi figures taking over the centre-west steps of the Place des Festivals. Kongzi? Yes, that means Confucius, and in a larger sense, also embraces other philosophers and sages united by the same school of thought from traditional Chinese culture. The Hello Kongzi project aims to promote the universal values of Chinese culture—kindness, rectitude, propriety, wisdom and sincerity—and invites the entire world to discover China from a new perspective. Right next door, you'll find their big brother, an enormous version of the Kongzi, an ice sculpture standing 4.5m tall!
A little further south, the Hello Kongzi Dome is also dedicated to our eponymous hero, with a kiosk offering information on his history, a Chinese shadow puppet workshop (where you can make your own short film, image by image!) and another letting you create Chinese lanterns. Kongzi will also be in the MAC, as part of a painting workshop inviting fans to paint their own figurine. In the Galerie de la Maison du Festival, fans will find an exhibition of 24 Shenzhen design posters—remember that Shenzhen, like Montreal, has been a member of the UNESCO Creative Cities Network since 2008, and has been named a UNESCO City of Design! Finally, the Grand Chinese Ferris Wheel (right in the middle of Ste. Catherine St., in front of the MAC) will lift fans up for a ride in the sky and a magnificent view of the illuminated site, and a photo exhibit will showcase Shenzhen at its loveliest. And join us to kick off the party with a 100% thrilling open-air Chinese pop concert, the Shenzhen Pop Music Show (February 18, 8 p.m., RBC Stage)!
Lear more here about all the outdoor activities!
Focus on Shenzhen's cuisine
A rapidly growing city of immigrants, Shenzhen unites the gastronomical traditions of all the regions of China, honorably representing the eight great culinary traditions of the country. Its abundant natural resources make it an especially opportune location for Cantonese cuisine. Overflowing with colours, flavours, aromas and textures, this is a cuisine that changes with the shifting seasons. To offer us the best possible overview, MEL welcomes Anthony Dong, of the Futian Shangri-La in Shenzhen, who will present his Honorary President's Dinners in the Renoir Restaurant, Sofitel Montreal, along with chefs Ruitian Yu of the Westin Shenzhen Nanshan hosted by Chez Chine (Holiday Inn Downtown), Mark Wu of the Grand Mercure Shenzhen Oriental Ginza hosted by Europea, and Scott Xu of the Grand Hyatt Shenzhen hosted by Toqué!
Lear more here about all the culinary activities planned this year!