If you suddenly have a vision of five Spice Girls dancing around in your head, you are not going crazy. The title of this blog is the name of their most popular song. And I thought it was quite a clever title for this post: the results of the CulturEatz survey where I asked you questions to know what you want out of my blog.
Thank you so much for filling out the survey in such large numbers about what you want to see here. I was humbled by how many of you took a little time out of your busy day to answer my questions. I heard a lot from my fellow bloggers and I got to meet some fans who do not normally leave a comment but have been reading me your years.

I am not going to cover every question here but I wanted to share a few results. I bet you are wondering if others answered the same way as you did? 🙂

credit www.idolator.com

I did not post this online survey to change how I write and strictly give you what you want. Quite a few of you had that concern when you answered and told me not to change a thing because you just love what I do. Those comments meant the world to me, thank you so much! It was an experiment just to get your ideas, vision, and suggestions. And sometimes a fresh pair of eyes can notice and suggest little tweaks that I would totally miss. And with the blog rebrand the timing was perfect.

Some suggestions I applied already. Like removing that newsletter pop-up (there is a bar at the top of the screen now to sign up), plus I added a new bigger font for the blog posts. And how cool are the new most popular and exotic recipes lists with thumbnails on the right?

Other suggestion that I will consider are step-by-step pictures, low cost recipes, quick meal ideas, and easy recipes for kitchen rookies. Special requests were more bread recipes and smoothies! And it turns out my food events and Montreal post have more fans then I had imagined.

But what kind of recipes do you like to discover here on Cultureatz? Let's look below: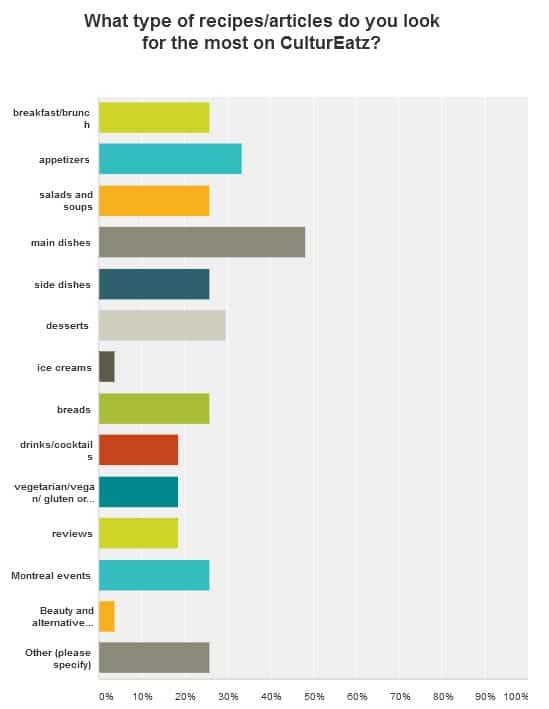 Well it is not hard to spot the winner here: main dishes! Looking for dinner ideas? Noted 😉
Appetizers and desserts are next as faves, followed by breads, side dishes, salads and soups,  Montreal events, and breakfast/brunch.
And what about the types of cuisines you crave to try out the most?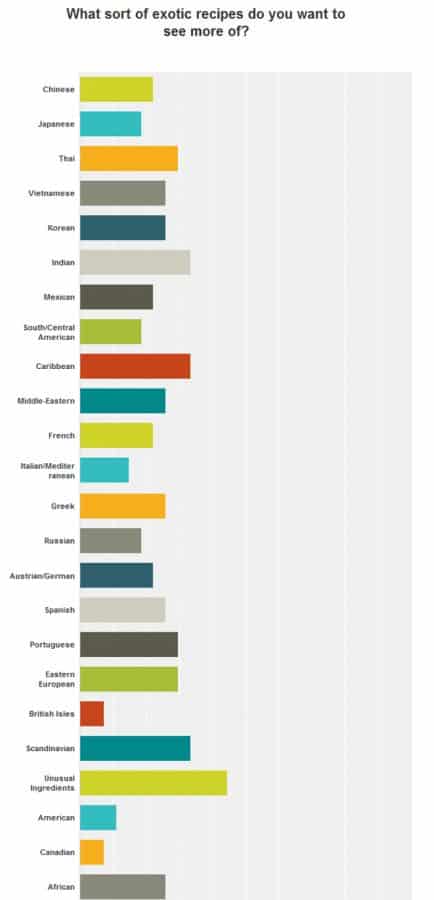 Again, one clear winner here: unusual ingredients, unusual recipes, unusual techniques. This one came up over and over and over again in the free comments section. LOVE they way you all think! I even renamed a category, Evelyne's Unusuals, where I linked my past weird food discoveries and expect more to come!
Popular exotic cravings included Indian, Scandinavian, Caribbean, Thai, Eastern European, Portuguese, Greek,  African, Middle-Eastern, Vietnamese, and Korean. Special requests were Ethiopian, Hungarian, Polish and Peruvian. I was surprised by some of the answers in this section of the survey and I will be happy to explore the suggestions!
And one last stat that surprised me, the newsletter question…..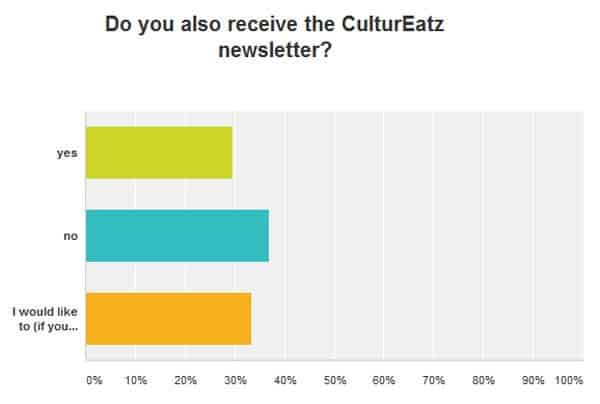 I did not think over 70% of you were into getting a newsletter. This is something I have neglected in the past but the good news is I have been sending one out more regularly in the last two or three months. So if you are not on the list and want to be (shameless self promoting I know), tell me in the comment section below and I will add you so you can get more fun yummy goodies in your inbox!
I hope you enjoyed this post and getting a peek into my reader's mind. Some suggestion will totally become reality. Again, I want to say a big thank you to everyone you answered the survey following my blog rebrand.
Did you make one of my recipes? I would love to see it. Take a photo and tag me on Instagram @cultureatz.
EDITOR'S NOTE: This post may contain affiliate links (disclosure policy). Please support CulturEatz by clicking on the links and purchasing through them so I can keep the kitchen well stocked. It does not alter the price you pay.