Want to win a unique food prize? Enter the CulturEatz Survey Prize Contest automatically by filling out a short and sweet survey!
I have been pestering telling you about all kinds of news and changes on CulturEatz lately with the ongoing rebrand. Well now it is YOUR TURN to tell me something with this survey prize contest!
I have set up a very short & sweet survey because I want to know what you think! Tell me what you like, dislike, what you want to see more of, and tell me your deepest darkest secrets. OK you can skip that last one 😉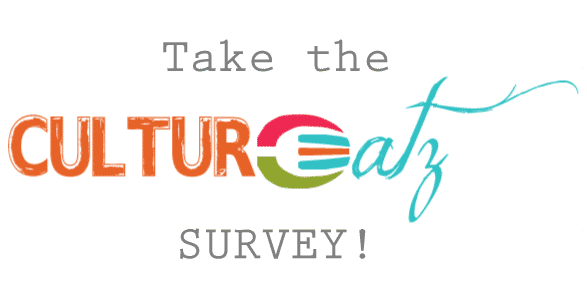 UPDATE: We have received the 100 filled surveys early, the contest is closed as of Jan 27th 2016 11:59pm
But seriously I would so appreciate you taking 3 minutes to fill out the CulturEatz survey, your opinion is absolutely invaluable to me. I'll keep it open up to January 31st 2016 (or up to 100 filled surveys) in case you don't have time now. BONUS: once the survey is closed I will be sharing share the results with you (don't you love knowing what others have to say?).
And to thank you for giving me a few minutes of your time, you will be automatically entered into the Survey Prize Contest. Up for grabs are a Chia Jam Mix (did you know chia seeds were cultivated by the Aztec in pre-Columbian times?) and Hemp Hearts. The contest is open worldwide and will be on for as long as the survey remains open (100 filled surveys), or no later than midnight January 31st 2016. The winner will be chosen with a random number generator and the winner will be advised by email, to which they will have 3 days to respond.
UPDATE: We have received the 100 filled surveys early, the contest is closed as of Jan 27th 2016 11:59pm
Now that you are done, how about a FUN FIND?
Canada is so big I don't even know what is going on food wise in some provinces or territories. A cousin of mine is a geologist and at this time of the year he goes WAY UP NORTH for work and loves it. He also likes to share with me some of the meals and foods he enjoys up there.
Paul sent me a Christmas dinner menu from the December 2015 issue of Up Here Magazine, which is based in the Northwest Territories. The dinner is a genuine Northern on-the-land feast like you might have had 50 years ago.
Who wants to attend this dinner with me?
Did you make one of my recipes? I would love to see it. Take a photo and tag me on Instagram @cultureatz.
EDITOR'S NOTE: This post may contain affiliate links (disclosure policy). Please support CulturEatz by clicking on the links and purchasing through them so I can keep the kitchen well stocked. It does not alter the price you pay.