We all love homemade sweets and we always try to make cakes, bars and breads from scratch every chance we get. But sometimes there are just not enough hours in the day or we find out last minute that there is company on their way expecting coffee and cake as part of the entertainment.
I assure you, even food bloggers must sometimes resort to a quick mix. The trick is finding one that is good enough to pass on as your own, or at least a product that does not compromise on quality or homemade taste. Thankfully there is a hero in this story, Robin Hood Quick Bread Mixes!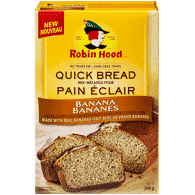 Have you tried Robin Hood Quick Bread Mixes? They check all the boxes:
you get homemade taste in a hurry
you can find these mixes easily available in store
they are quick to prepare and bake, this product is box to oven in 5 minutes
they make a great baking project with kids, giving them an opportunity to experiment and learn
they simplify baking for the kitchen challenged people
clean up is a breeze and you only need to add three ingredients (water, eggs, oil)
even professional chefs, such as Leslie Steh, bake with Robin Hood Quick Bread Mixes
These mixes are offered in 5 flavours: Banana Flavoured, Chocolate Chip, Lemon Poppy Seed Flavoured, Cinnamon Swirl, and even a Gluten Free Banana mix. And don't be afraid to play with them and get creative! You can add nuts, chocolate, or fruit to the mixes. Of how about baking them into muffins, pancakes, and even biscottis? The options are only limited by your imagination.
Here is a great video to learn more about Robin Hood Quick Bread Mixes. Give one a try, save time in the kitchen and spend more quality time with your family and friends.
Click these links for product information or recipe inspiration, and check out the Facebook page
This is a sponsored post.
Did you make one of my recipes? I would love to see it. Take a photo and tag me on Instagram @cultureatz.
EDITOR'S NOTE: This post may contain affiliate links (disclosure policy). Please support CulturEatz by clicking on the links and purchasing through them so I can keep the kitchen well stocked. It does not alter the price you pay.