It's time for the MENA (Middle Eastern & North African) Cooking Group. This monthly group has for goal to help us discover the culture and cuisine of the countries found in these parts of the world. The host of the month will choose a savory and a sweet dish from the country and the members pick one dish to make.
This month we are exploring Iran and I chose the Reshteh Polow, or Persian Rice with Noodles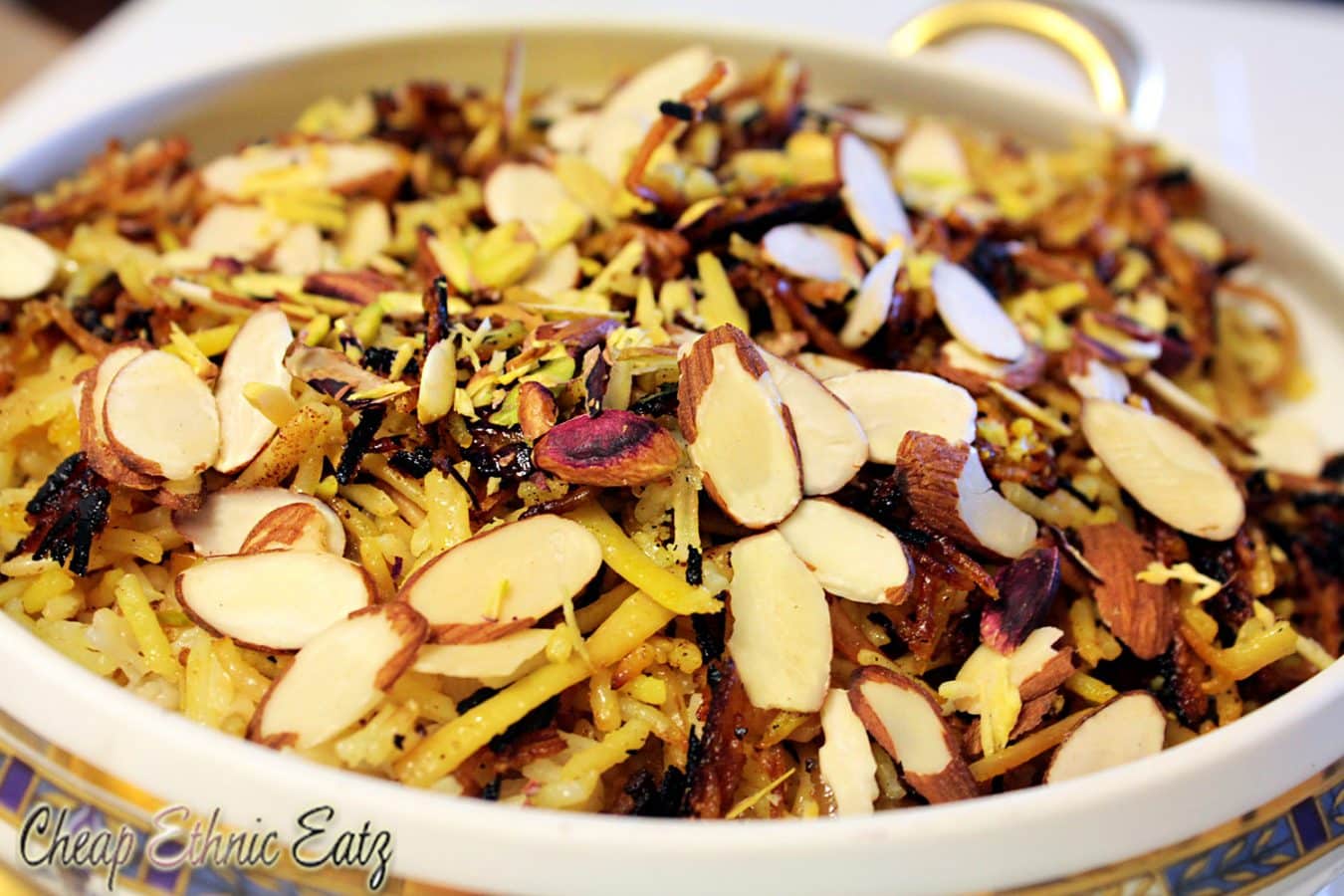 Iran is a large country in the Middle East, between the Gulf of Oman, the Persian Gulf, and the Caspian Sea. It is bordered by Iraq to the west, Turkey, Azerbaijan's Naxcivan enclave, Armenia, and Azerbaijan to the northwest, Turkmenistan to the northeast, Afghanistan and Pakistan to the southeast. Theran is the capital. Known formally as Persia until 1935, Iran became an Islamic republic in 1979 after the ruling Shah was forced into exile. Conservative clerical forces subsequently crushed Westernisation and also any liberal/left-wing influences. Iranian student protesters seized the US Embassy in Tehran on 4 November 1979 and held hostages for 444 days -until 20 January 1981. From 1980 to 1988, Iran fought a bloody, indecisive war with neighbouring Iraq over disputed territory. For the rare tourist, there are gorgeous palaces, museums, trekking across desserts, skiing and swimming.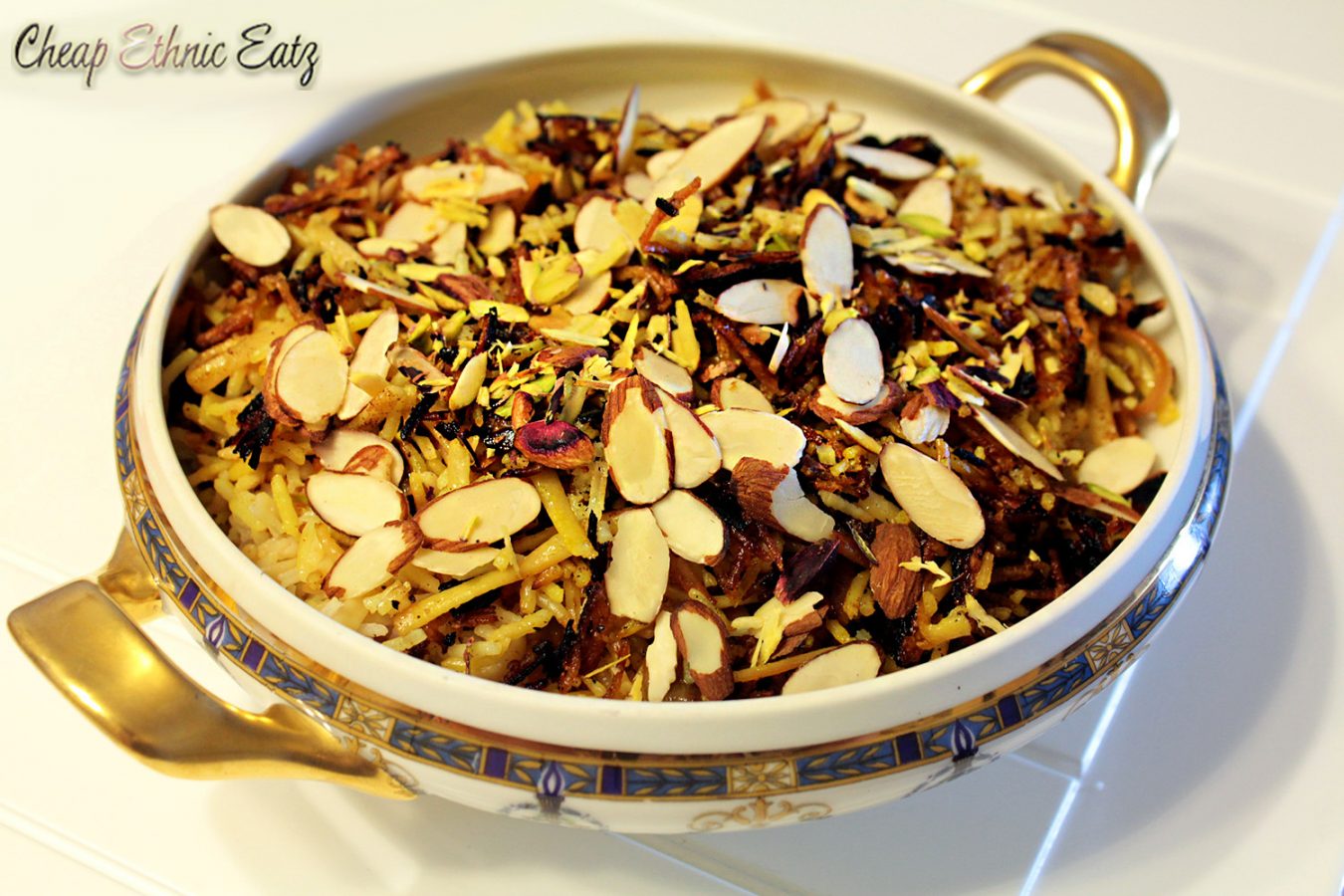 Iran is a beautiful war torn country. If you do not know a Iranian person you may not have the best or most informative opinion about the people. The fact that relations between Iran and the US are so bad does not help Persian culture. I am lucky and happy to say my life has been blessed with many Persian acquaintances. I met quite a few in my early 20s and the meals I enjoyed in their home really opened up my general ethnic curiosities in food. My building and my neighborhood is filled with Persians. I can choose from 5 different Iranian restaurants within a few blocks.
They are also one of the kindest, warm, most sincere and generous culture I ever met. Here is one quick story. A couple of years back I was walking in the hallway of my floor in my apartment building when I ran into my neighbor across the hall. We had spoken a bit here and there but she barely spoke French or English. This time she came out with a tray of 4 big bowls of fragrant rice pudding that she was bringing to fellow friends in the building. When I mentioned it looked amazing she insisted I take one. It was huge, about 4-6 servings, and she would not take no for an answer. I was so touched. I brought her back a clean bowl and a Canadian dessert.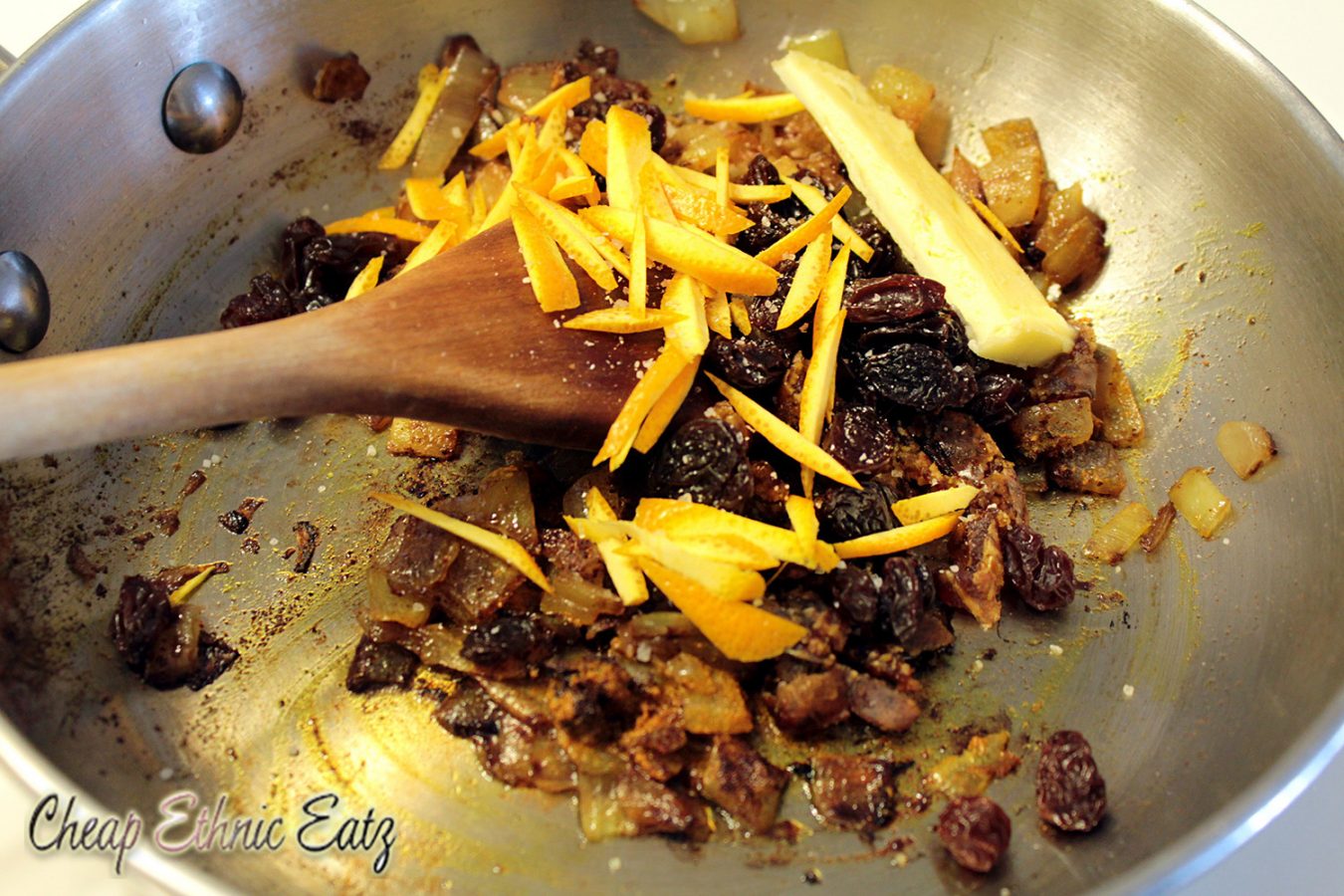 Fragrant rice is the staple of Iranian food. Boiled and then steamed, it is often coloured with saffron or flavoured with a variety of spices. When served as an accompaniment, it is served with kebabs or rotisserie chicken. Flavoured rice, known as polow, is often served as a main course or as an accompaniment to a meat dish. At home people most often eat rice with a thick stew (khoresht) or hearty soups containing a modest amount of meat.  The most popular soup is made from herbs, chickpeas and thick noodles, and garnished with yoghurt and fried onions. Flat bread is another pillar of Iranian food. It is served at breakfast with herbs, feta cheese and a variety of jams, or as an accompaniment to meals.
Sweets are very popular. Iranian baghlava tends to be harder and more crystalline than its Turkish equivalent while the pistachio noughat called gaz is an Isfahan speciality. Sohan is a rich pistachio brittle popular in Qom, and freshly-baked pastries are often taken as gifts to people's houses. Lavāshak fruit leathers are delicious fruit leathers made from dried plums. Honey-saffron and pistachio are just two local flavours of ice cream, while fāloodeh  is a deliciously refreshing sorbet made from rosewater and vermicelli noodles made from starch, served with lashings of lemon juice. (wiki travel)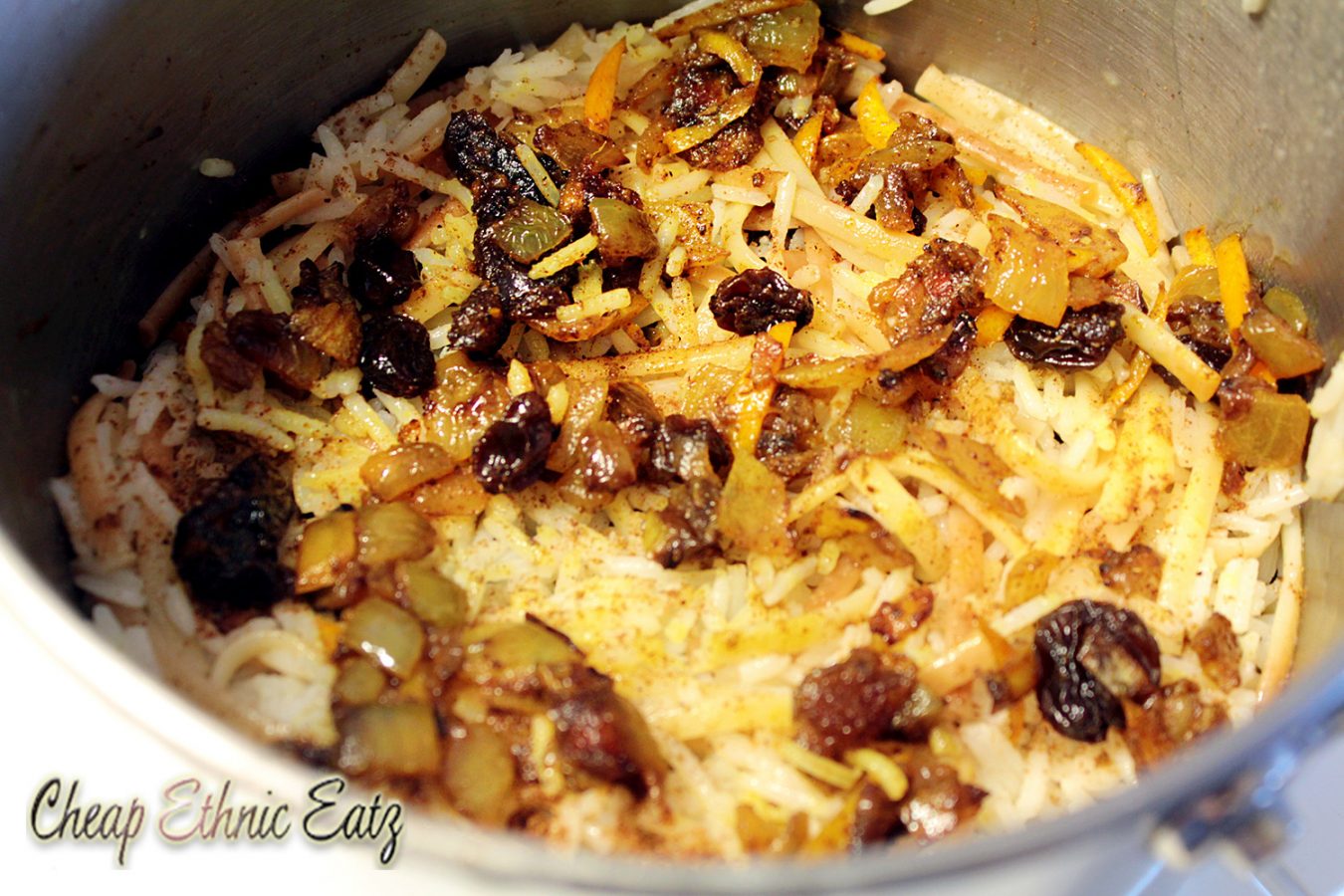 The Reshteh Polow recipe I am preparing today falls under the polow rice dishes and it is  adapted from My Persian Kitchen. It is a classic Persian New Year's dish and for other celebrations. The uniqueness of this type of rice is the tahdig, a golden rice crust created at the bottom of the pot. It is served plain, with thin bread such as lavash or slices of potato.
Mine did not really turn out and I burned my pan but I have enjoyed tahdig that Persian friends made, so amazing.
Yields 6 to 8 servings
Reshteh Polow: Persian Rice with Noodles
Ingredients
1 onion, fine dice
5 dates, pitted and diced
4 oz of reshteh (substitute with capellini/spaghetti)
1 1/2 cups basmati rice
1 tsp cinnamon
1/8 tsp turmeric
1/4 cup raisins
1/4 cup slivered orange peel, white removed
salt
2 tbsp canola oil
Advieh (mix of cinnamon, nutmeg, cardamon, cumin, dried rose petals)
1 tsp saffron
3/4 cup water
4 tbsp butter
handful of slivered pistachios and almonds
Instructions
Heat 1 tbsp of butter in a pan and saute onion until nice and golden. Remove pan from heat.
Brown reshteh in 1 tbsp butter until golden in a saucepan. Add rice, salt and 3 cups of water. Boil, lower heat and simmer for 6 min. Drain rice in a colander.
Add 1 tbsp butter, turmeric and cinnamon to onions. Give them all a nice stir. Add dates, raisins, orange peel, salt and stir. Set aside.
Place 2 tbsp of canola oil at the bottom of the saucepan. Add 1/3 of the rice. Sprinkle about 1/4 tsp of advieh. Place half of the date, raisin, orange peel, and onion mixture on top. Repeat all layers once and end with a layer of rice.
With the back of the spatula make 5 holes around the rice.
Ground the saffron. Dissolve ground saffron in 3/4 cup of hot water with 1 tbsp of melted butter, mix well. Pour the saffron-scented water over the top layer of rice.
Cover the lid of the pot with a clean dish towel and place lid on the pot. Wrap the sides of the towel up over the top of the lid.
Place the pot on high heat for 5 minutes, then reduce to low and steam for about 45 minutes. Remove from heat and let rest for 10 minutes.
Carefully invert the pot onto a large serving dish to pour out the rice. Serve any crusty rice from the bottom of the pot crumbled over the top. This is called the tahdig. Sprinkle the almonds and pistachios on top.
7.8.1.2
129
https://cultureatz.com/reshteh-polow-persian-rice-noodles/
Our host this month for the MENA cooking group is Sanam of My Persian Kitchen
'); // ]]>
Did you make one of my recipes? I would love to see it. Take a photo and tag me on Instagram @cultureatz.
EDITOR'S NOTE: This post may contain affiliate links (disclosure policy). Please support CulturEatz by clicking on the links and purchasing through them so I can keep the kitchen well stocked. It does not alter the price you pay.