Parcours épicuriens arrive in Montreal! After 3 years of existence in Quebec City, CELEB'Events is proud to launch 4 epicurean routes in different Montreal neighborhoods: Hochelaga, Wellington, Mile-Ex / Little Italy and St-Henri.
Montreal is definitely a city with a food love affair. We have more restaurants per capita than any other city in North America, we have several festivals dedicated to food, food tours, and even special restaurant annual events. Food tours are fun when you are traveling to a city or if you are enjoying a staycation. But they can be expensive. Well, Parcours épicuriens just launched 4 French tours in Montreal at a very affordable price, close to half what you would normally expect to pay. And you can explore less touristy neighborhoods to boot.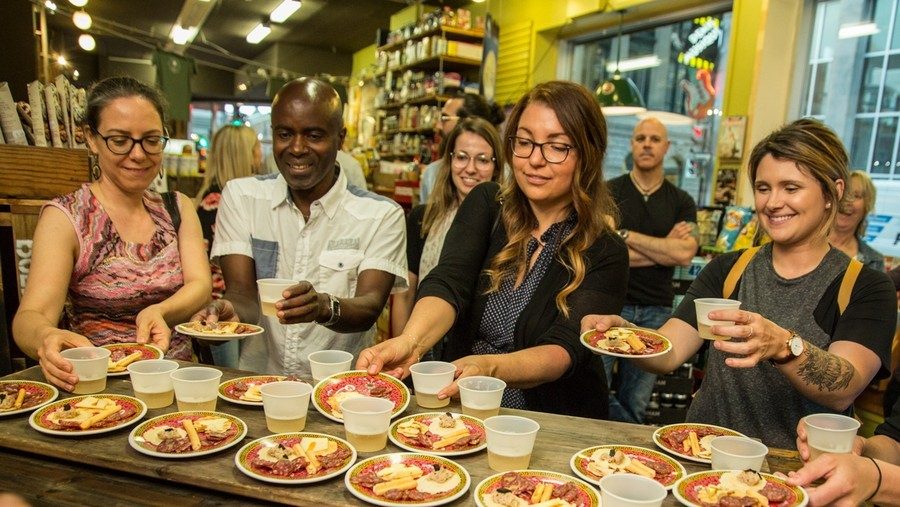 "After 3 years of success in Quebec City, we are confident that Montrealers and tourists will also be excited about the concept. In fact, it's beyond the scope of a city, it's a matter of passion and curiosity. Montreal is full of neighborhoods full of life and little jewels to discover, we are very excited to set foot there! ", Said Éric Lavoie, co-founder of CELEB'Events and Epicurean routes.
Parcours épicuriens, or Epicurean routes, what is it?
The Epicurean Routes are festive events of local and gourmet discoveries.
The Epicurean Routes are accessible financially and are offered all year long: between 6 and 9 stops per route, giving you the privilege to meet with passionate local partners, accompanied by mouthfuls and drinks reflecting their company.
Each route is unique and reflects its neighborhood and the varied and passionate traders who define its identity. Special attention is paid to the choice of the guide who lives very often in the neighborhood he shows.
Our clientele is local, open to discovery and above all, gourmet!
Our routes are 18 years old and over.
Find 10 routes are currently offered in Quebec and 4 in Montreal
For us, the term "epicurean" means pleasures in the broad sense. That's why our routes are not only about the pleasures of alcohol and food; they also offer visits to art galleries, karaoke, junk shops and other surprising stops.

Duration of the journey: 3 to 4 hours
Cost: $ 34 + taxes at the time of posting (appetizers, beverages, and gratuity included)
* Tip of the guide not included but at the discretion of the participants
Day: Saturday
Time: 14h or 15h30 (depending on the route, details on the website)
Number of people: 15 people maximum
Check out the different Epicurean routes you can take in Montreal here.
I think the tours are only in French at this time but keep an eye out on the website English ones maybe in the future. Perhaps CulturEatz will be invited soon for a more in-depth review (hint lol)?