Looking for a new exotic breakfast idea? This delicious Masoub dish is a Saudi Arabian banana bread pudding made in its simplest form, topped with almonds, raisins, whip cream, honey and cheddar.
It's time for the MENA (Middle Eastern & North African) Cooking Group. This monthly group has for goal to help us discover the culture and cuisine of the countries found in these parts of the world. The host of the month will choose two savory and a sweet dish from the country and the members pick one dish to make. We are visiting Saudi Arabia this month and we will make Masoub, a Saudi Arabian Banana Breakfast Dish.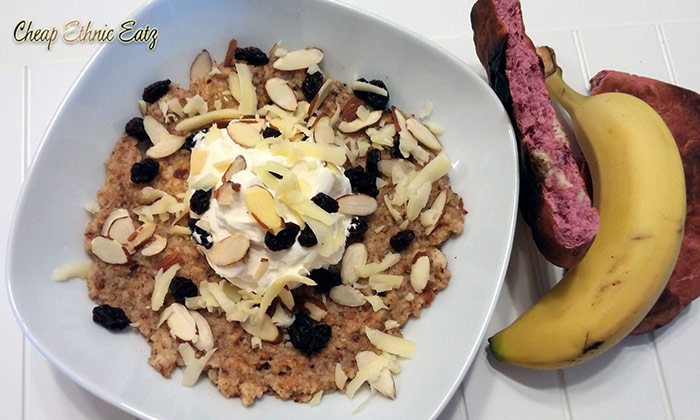 Saudi Arabia is a Middle Eastern country that occupies most of the Arabian peninsula and has coastlines on the Persian Gulf and Red Sea. Saudi Arabia contains the holy Muslim city of Mecca, to which all physically and financially able Muslims are required to make a pilgrimage at least once if possible in a lifetime.
Saudi Arabia has an oil-based economy and this country has some of the most restrictive travel policies in the world…but if you get in your list should include the capital of Riyadh, the cities of Jeddah and Medina, desert excursions, scuba diving in the Red Sea, and camel riding. Most activities must be done with a family, not a lone person.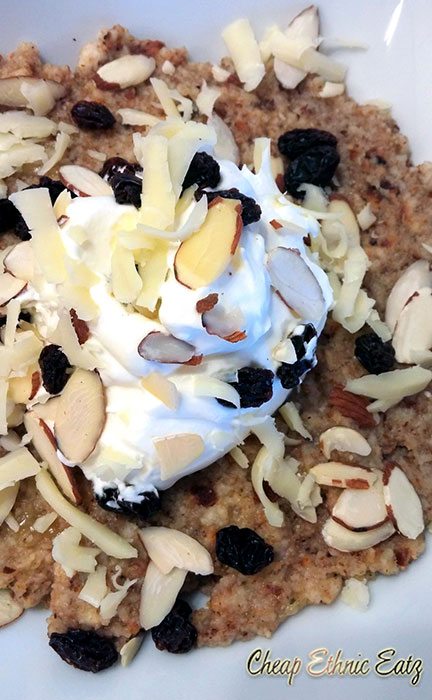 Saudi Arabian cuisine has remained unchanged for thousands of years. Some of the common food items include wheat, rice, lamb, chicken, yogurt, potatoes and dates. Levantine and Egyptian dishes are common too. The national Saudi Arabian dish is the Kabsa, an orange/red coloured rice with lamb or chicken with strong essence and spices. Once upon a time, arabic coffee beans were roasted with a few cardamom pods, cooled, ground and brewed in front of the guests.
I have a FREE PRINTABLE for you
Surprise! I have prepared a Cheat Sheet that includes 41 Cooking and Baking Ingredient Substitutions that are commonly found in a kitchen. Click here to get your FREE Ingredient Substitutions Cheat Sheet right now!

Masoub, a Saudi Arabian banana breakfast dish, is a very popular banana based breakfast made of over-ripe bananas and some ground flatbread. Masoub is very easy and quick to make and can be made with a variety of breads too,  such as pita or whole wheat slices of bread. Funny enough I made my own flatbread that was last month's #twelveloaves challenge.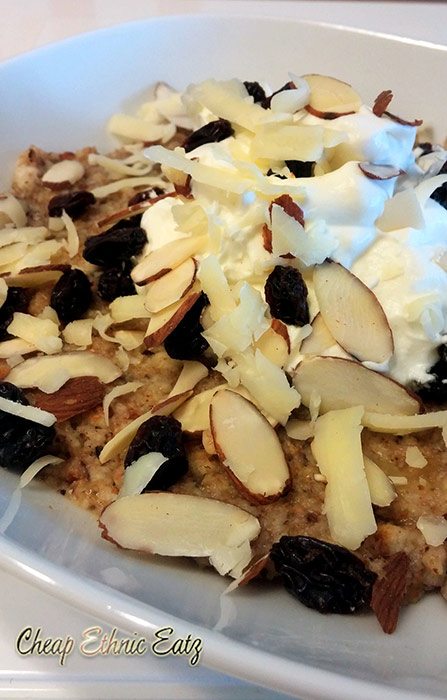 When I first saw this Masoub recipe I thought it looked boring but I only read raving reviews online . Well I am convert, loved this stuff. It is like a banana bread pudding in its simplest form and just so darn delicious. The toppings are perfect:  sliced almonds, raisins, whip cream, honey (which I forgot) and, yes, mild cheddar cheese. It sounds weird but the cheese is GOOD!
This recipe comes from Queen of Sheba's blog. Thank you to MENA Cooking Club and to our host this month: Noor of Ya Salam Cooking.
Yields 4 portions
Masoub, a Saudi Arabian Banana Breakfast Dish
Ingredients
3-4 very ripe bananas
2-3 flatbreads
Sliced almonds
Golden raisins
Whipped cream
Honey
Shredded mild cheddar (optional)
Instructions
Peel and mash the bananas with a fork in a bowl. Set aside.
Coarsely grind flatbread in a food processor. Mix with the mashed bananas until combined. You want to have about the same volume of banana to bread.
Put the mixture into a serving dish and smooth over the top. Top with raisins, almonds, whip cream, honey and grated cheddar. You can heat the masoub in the microwave for 30 seconds if you like.
7.8.1.2
163
https://cultureatz.com/masoub-saudi-arabian-banana-breakfast/
Check out more MENA group recipes here:
Did you make one of my recipes? I would love to see it. Take a photo and tag me on Instagram @cultureatz.
EDITOR'S NOTE: This post may contain affiliate links (disclosure policy). Please support CulturEatz by clicking on the links and purchasing through them so I can keep the kitchen well stocked. It does not alter the price you pay.