If all Yemeni food is like this Khaliat Nahal, I am in love. Just try and resist a bite of a cheese filled Honeycomb Bread, dripping in an orange blossom perfumed syrup!
It's time for the MENA (Middle Eastern & North African) Cooking Club. This monthly group has for goal to help us discover the culture and cuisine of the countries found in these parts of the world. Two savory recipes and a sweet dish are suggested from the country and the members pick one dish to make. This month we are off to Yemen with a super yummy Khaliat Nahal, a Yemeni Honeycomb Bread.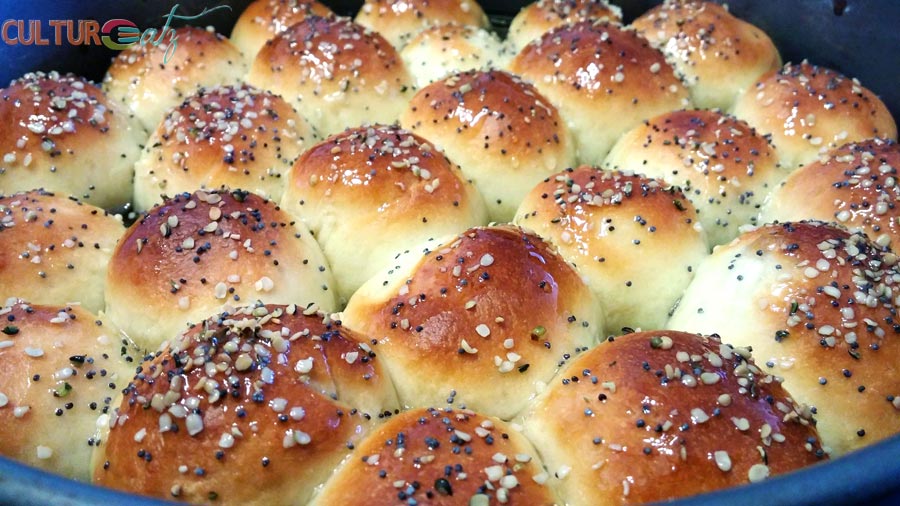 Yemen is on the southern tip of the Arabian Peninsula, and sharing borders with Saudi Arabia and Oman. Unfortunately beautiful Yemen is being ravaged by a horrific civil war right now, hardly a tourist destination at this time.  A real shame as it must be a fascinating country to explore, it being one of the oldest centers of civilization in the Near East and having a record of history dating back to the 12th century BC.
Early Yemen has been ruled by many kingdoms we have never heard of, later by Ethiopian and Persian rule, and the Ottoman Empire. The landscape is varied, from the coasts to mountains, valleys and highlands. Sana'a is the capital city. The people are said to be very friendly and welcoming.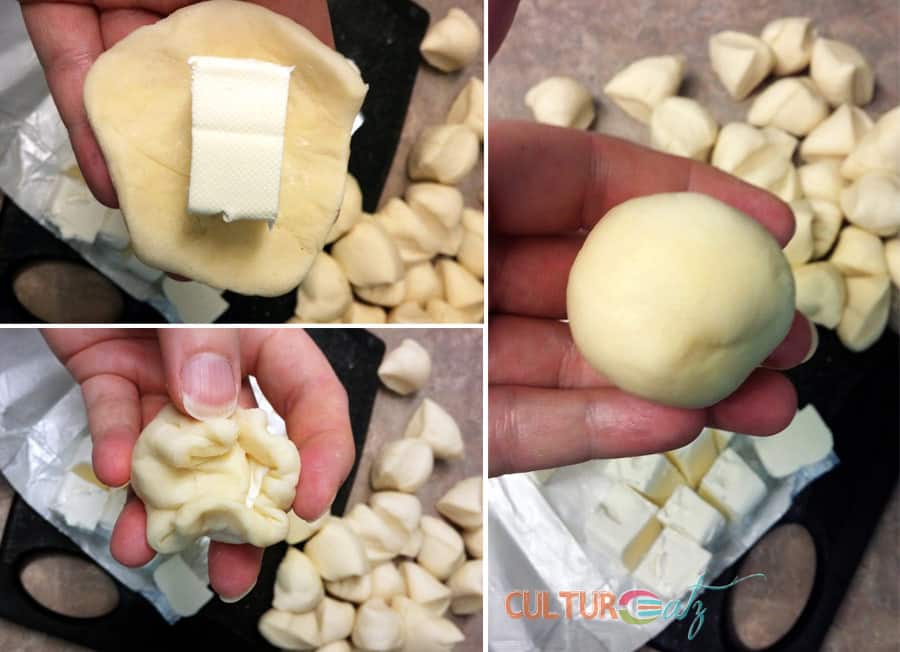 Yemeni cuisine is quite distinct from the rest of the Middle East and it is best enjoyed when invited by locals for a meal. Not accepting an invitation is considered an insult. Many dishes are prepared in a round clay oven called a taboon. Chicken, goat, lamb, tomatoes, onions, broad beans, lentils and potatoes are the staples in Yemen. There is also a long list of unleavened flat-breads to enjoy. Common seasonings include chili peppers, cumin, coriander seeds, turmeric, fenugreek, mint, cilantro, and the Hawaij spice mix made from aniseeds, fennel seeds, ginger, and cardamom.
The national dish is salta, a meat-based stew spiced with fenugreek. Ogdat, which means "knot", is a stew made from tying all the ingredients together. Yemeni honey is an important delicacy which one will find in most desserts, like today's honeycomb bread and bint al-sahn. Fruits like raisins, mangos and bananas are common, as is the banana bread pudding Masoub recipe, which I have made before.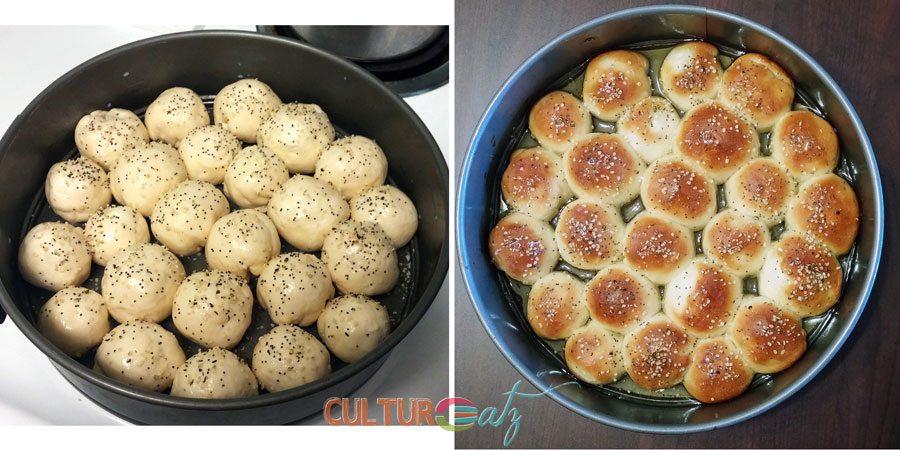 Today's Khaliat Nahal is a cheese filled honeycomb bread recipe, sort of like a pull-apart bread, which is soaked in an orange blossom perfumed syrup after it comes out of the oven. Another name for this bread style is Beehive. And yes it is just as awesome and delicious as it sounds. I swear this part of the world knows how to make desserts. It is a mix of savory (with the cream cheese) and sweet (with the syrup) but it is not overly sweet either. I halved the recipe and brought enough for my colleagues to have two pieces each. They vanished pretty fast and I got loads of compliments. These would be fabulous for a pot-luck party.
This recipe is on Sheba Yemeni Food. Check out the other bloggers below who participated this month and look for the hashtag  #menacookingclub. We have hit our last country alphabetically, not sure what the future holds yet for the group. Stay tuned!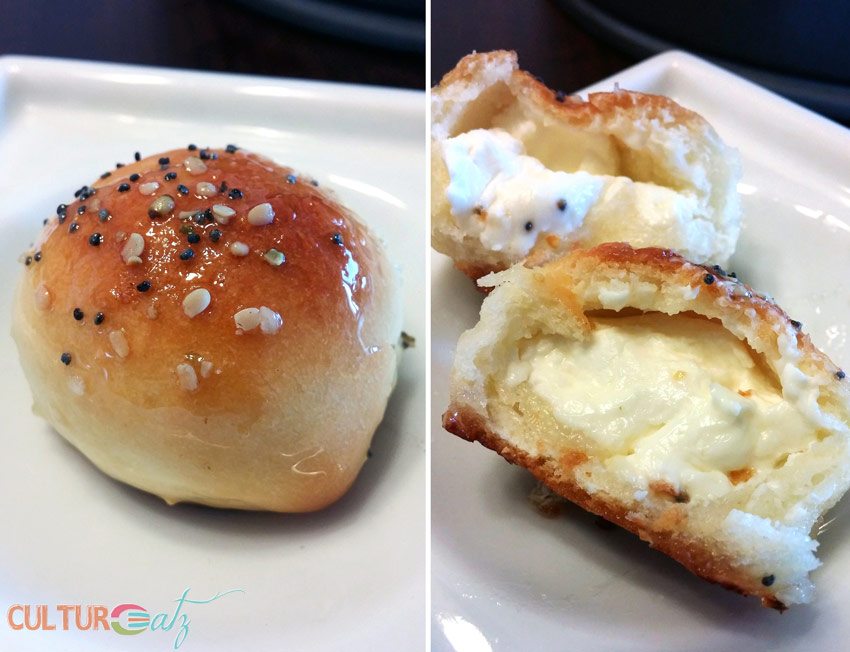 Yields 48 balls of bread
Khaliat Nahal, a Yemeni Honeycomb Bread
Ingredients
Dough

2 teaspoons yeast
1/4 cup warm milk
1/4 cup sugar
1 tsp. salt
3 1/2 cups bread flour
2 tbsp. unsweetened yogurt
1 egg
6 tbsp. butter, softened
about 1/2 to 2/3 cup warm water
8 oz. cream cheese
1 tbsp. milk for the wash
sesame seeds/black seeds (I used poppy and hemp seeds)

Sugar Syrup

2 cups sugar
1 cup water
1 tbsp. honey
1 tbsp. orange blossom water
Instructions
Activate the yeast with a 1/4 cup of warm milk, leave to rest a few minutes. Add the sugar, salt, flour, yogurt, egg, butter, and enough water to form a smooth but not too sticky dough. Knead for about 15 minutes until smooth (or less with a stand mixer with dough hook).
Let the dough rise for about 1 hour in a warm place, covered.
Grease a big 14 inch round baking pan or 2 smaller baking pans. Cut the dough into 48 equal sized pieces (split into 3 parts, and then each piece in half until you have 48).
Cut the cream cheese into 48 pieces. Take a piece of dough and form a flat disk, place a piece of cream cheese inside, pinch it closed with your fingers and roll it into a ball. Repeat.
Place the balls into the pan, leaving about a 1/2 inch space between all the pieces to allow room for the 2nd rise. Cover and let rise until doubled in size, about 1 to 1 1/2 hours.
Preheated oven to 375 F. Brush the tops of each piece of dough with milk, and sprinkle sesame seeds on top. Bake for 20 to 25 minutes, or until golden brown on top.
In the meantime, bring the sugar and water to a boil over medium high heat and leave it to boil for 5 to 10 minutes. Stir in well the honey and orange blossom water. Remove the buns from the oven and pour the sugar syrup on the top. Serve when syrup has cooled a bit.
Notes
So I was out of sesame seeds. But I am sure you will have something in your pantry to use as a substitute. I used poppy and hemp seeds to achieve the same look.
7.8.1.2
187
https://cultureatz.com/khaliat-nahal-honeycomb-bread/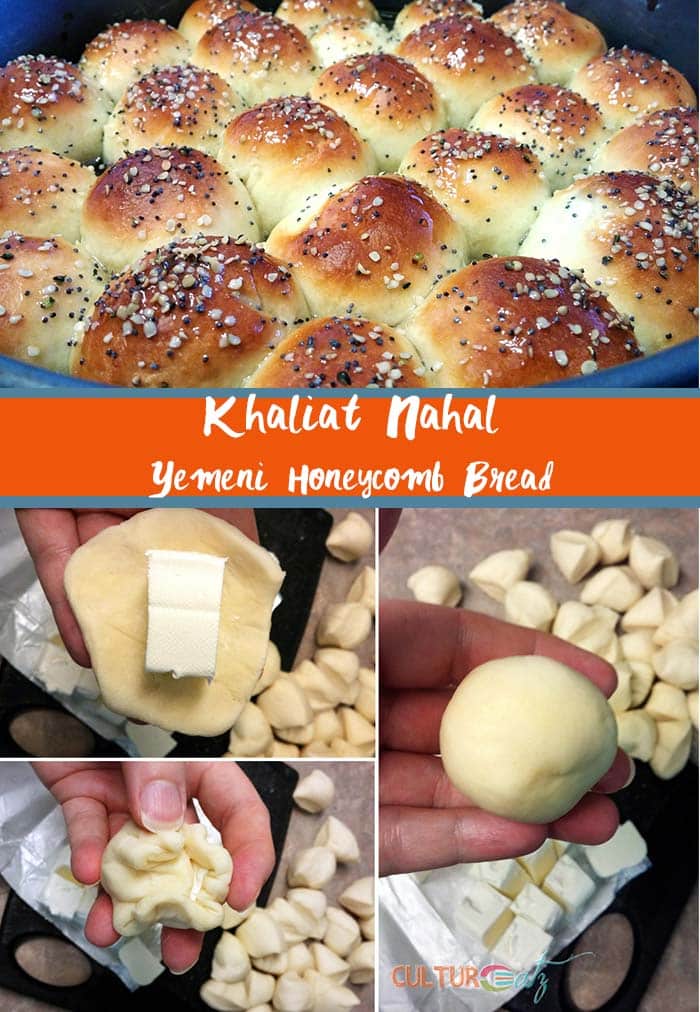 Check out more bread recipes from around the world here:
Did you make one of my recipes? I would love to see it. Take a photo and tag me on Instagram @cultureatz.
EDITOR'S NOTE: This post may contain affiliate links (disclosure policy). Please support CulturEatz by clicking on the links and purchasing through them so I can keep the kitchen well stocked. It does not alter the price you pay.