Seems like a post about favorite food related books is of "rigueurs", I have seen many lately popping up. I have had this post in the making for months so I guess this is a good time as any to join the flock. I think cookbooks are just gorgeous works of art that provide leisurely hours of perusing and salivating. Unfortunately the moment they enter my house they sit on a shelf collecting dust. It seems most of my inspirations come from online. I do enjoy reading fiction and non fiction books about food.
Here is a little list of my favorites – cookbooks with less dust and some great food readings.
I COOKED
The Taste of Africa by Rosamund Grant and Josephine Bacon
African food mystifies me. Not only does it fall into my ethnic radar, it is also a much less common cuisine to come across. There are a few African restaurants out there but I hardly believe them to be truly authentic. I had to get this book and explore real African food. Seventy five recipes cover traditional dishes from several African countries. See the recipe for Gambian Beef in Aubergine Sauce I made.
The Asian Grill by Corinne Trang
I got this book for $2 on a side walk sale. What got my attention in this book was not even the grilling, it was the chapter on condiments filled with many basic sauces and marinades we see in all Asian recipes. I also loved the chapter devoted on how best to stock a pantry for Asian cooking.
The Classico Pasta Sauce by Antigone Dallas
I have a tendency to fall into a pasts sauces rut often by making the same sauces over and over again. I like the variety here on the basicred, Alfredo and pesto sauces.
I READ
Salt by Mark Kurlansky
A long and at times heavy and frustrating to read factual book on the history of salt. But it was worth the entire read. Salt is essential to our existence, shaped civilizations, served as currency, was the reason why wars were declared, gave people the ultimate power of control and was the only way to preserve food for about 8,000 years.  Did you know salt was the reason behind Ghandi leading the Indian people to protest against the British Empire? Read the book to find out why?
My Life in France by Julia Child and Alex Prud'Homme
The book on which the movie Julie and Julia was inspired from. This book covers so much more about life starting with her arrival in Paris in 1948. You can feel her lively spirit and positive attitude she has always had. She tells us about her first grocery shopping experiences, her time at the Cordon Bleu, the saga of finally publishing Mastering the Art of French Cooking. Really great read and you can even get some great traditional French recipes in there.
A Year in Provence by Peter Mayle
I read this book years ago and I would love to read ti again. It is sort of a comical food memoir of the English author's first year culinary woes and discoveries in Provence. Stories of hunting for mushrooms, goat races and foie gras adventures. . A book to be savored and devoured. read his other books too.
What Einstein Told His Cook by Robert L Wolke
I got this book when I was getting interested in molecular gastronomy. We are told this fancy cooking style is all about chemistry. Well it turns out ALL cooking is a form of chemistry. This is an easy book to read with incredible dry humor. The author is a foodie, a columnist (Washington Post column Food 101) and a chemist. I loved this book and I learned a lot about food chemistry which I could apply in my everyday cooking, like when to use baking powder or baking soda in baking.
On Food and Cooking: The Science and Lore of the Kitchen by Harold McGee
I have it but I have yet to read it. It is suppose to be the Bible on how and why things happen in recipes. After reading What Einstein Told his Cook i knew I wanted to learn more about the chemistry of cooking. It covers a lot more too like why certain spices work together or solutions to recipe failures. I have not read it yet because it is a big reference book so not sure how to go about it.
I AM IN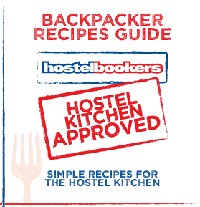 Backpacker Recipe Guide
A small cookbook of the ten most popular recipes submitted to Hosletbookers.com in a contest. Guess who is one of the ten winners, yes it would be me! Download the .pdf recipe guide by clicking the photo above.
I WANT
Rice & Curry: Sri Lankan Home Cooking by S H Fernando
Unusual ethnic food alert! I saw this book on a fellow foodie blog and I have desperately wanted to get my hands on this cookbook since then. In Sri Lanka a meal is typically referred to as 'rice & curry' – and curries can vary from main dish offerings (meat, chicken, fish, or mutton) to an assortment of vegetable and even fruit curries. Indian, Malay, Arab, Portuguese, Dutch and British influences all left their mark on the cuisine, but indigenous Sinhalese dishes have remained popular in villages for centuries. Fernando takes readers on an unforgettable culinary journey through Sri Lanka: demystifying ingredients, spices, and flavours and proving that Sri Lankan food is an easy-to-prepare, healthy option for modern lifestyles. It includes over 100 recipes, an introduction to Sri Lankan history, culture and cuisine, and stunning colour photographs throughout.
200 Easy Homemade Cheese Recipes: From Cheddar and Brie to Butter and Yogurt by Debra Amrein-Boyes
Another fellow foodie blogged about this book. In the last years I have made mascarpone and ricotta from scratch. I am a cheese addict. If I can make more at home easily I am sold! Homemade cheeses can easily surpass any commercially made cheese. In fact, the techniques used in home brewing, canning, pickling and wine making are quite similar to those needed to make cheese. More than ever, home cheese-making supplies and equipment are easy to find, and the only other requirement is a kitchen. The recipes in this book feature step-by-step instructions that eliminate all the guesswork. From cleaning to sterilization, every technique and process is explained clearly so that even a novice can create artisanal-quality cheeses. The book describes all cheese types and families, ripening and aging techniques and the kinds of milk and other components needed. Recipes for yogurts, kefirs, butters and buttermilk round out the collection.
Plenty by Yotam Ottolenghi
I came across several recipes by Yotam Ottolenghi on the internet and they are all mouthwatering, even if vegetarian for a carnivore like me. Not a vegetarian himself, his approach to vegetable dishes is wholly original and innovative, based on strong flavours and stunning, fresh combinations. With sections devoted to cooking greens, aubergines, brassicas, rice and cereals, pasta and couscous, pulses, roots, squashes, onions, fruit, mushrooms and tomatoes, the breadth of colours, tastes and textures is extraordinary.
My Year Of Meats by Ruth L Ozeki
This novel is the interlocking story of two women. Jane Takagi-Little is a Japanese American journalist who is hired by Beef-Ex to work for a Japanese production company. Jane works as the host and creative producer and every week an American wife is shown living "her life" and cooking meat. Parallel to Jane's story is the life of Akiko Ueno, reluctantly married to a man working for Beef-Ex. Her husband cares only that Akiko has a baby and forces her to watch "My American Wife" and cook the recipes, believing that it will allow her to conceive. The novel goes on to show just how manipulative the production company and meat industry are. (wiki)
Did you make one of my recipes? I would love to see it. Take a photo and tag me on Instagram @cultureatz.
EDITOR'S NOTE: This post may contain affiliate links (disclosure policy). Please support CulturEatz by clicking on the links and purchasing through them so I can keep the kitchen well stocked. It does not alter the price you pay.