One of my favorite Montreal events is here: the Expo Manger Santé et Vivre Vert. It's a great event to learn about eco food trends and try lots of food samples.
At the 19th edition of the Expo Manger Santé et Vivre Vert, health food, ecology and global health enthusiasts will be able to treat all their senses on March 11-12-13 at the Palais des congrès in Montréal and March 19-20 at the Centre des congrès in Québec City! More than 30,000 visitors in those two cities are expected to attend the largest Spring food and health event in Québec.
Visit CulturEatz's facebook post and enter to win 1 pair of tickets for the Montreal Expo!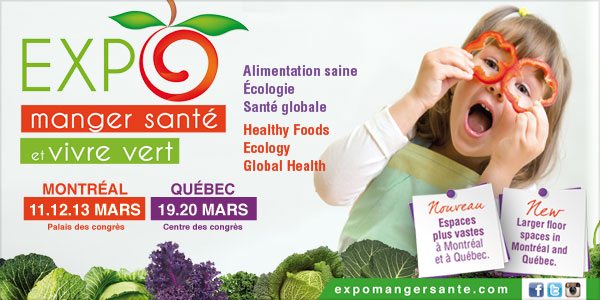 Pulses On the Menu
The Expo is proud to celebrate the International Year of Pulses by becoming the first large venue in Québec to welcome the traveling exhibition of the Canada Agriculture and Food Museum, in collaboration with Pulse Canada, to increase the awareness about the health benefits of pulses.
Additionally, pulses will be featured at the 6th Championnat amateur de Cuisine santé de Montréal in which participants are to present a main course featuring beans, lentils and/or dried peas. The selected candidates will be granted 30 minutes to execute an eco-gastronomy recipe under the attentive eye of a jury. The event will take place Saturday, March 12th, starting at 10:30 am.
A Sparkling Program
The Expo is also a unique meeting and learning place thanks to the numerous conferences and cooking demonstrations that will be taking place simultaneously on our 3 educational stages . This year we will welcome for the first time chef Daniel Vézina, the experienced nutritionist Bernard Lavallée as well as Dr Gaétan Brouillard. Other active and well-known personalities will share their passions and know-how: sociologist Laure Waridel, comedian and author Jacynthe René, pharmacist Jean-Yves Dionne, nutritionist Anne-Marie Roy, cook and organic gardener Yves Gagnon, speaker, coach and yoga teacher Érik Giasson and many others will inspire you.
On Friday, March 11th, the 3rd edition of the Best Artisan Baker Contest, featuring certified organic products, will take place. This highly anticipated competition will welcome 10 professional bakers from the 4 corners of Québec.
Their challenge will consist of baking 3 types of breads using organic whole grain flours:
• Best sourdough baguette
• Best salted bread made with khorasan flour
• Best sweet bread made with spelt flour and using an "Aliments du Québec" certified product
Croquarium is to enchant the Expo again this year with the Adventurers of Taste activity which invites children and families to take part in new sensory experiences. Each day, tastings and surprises are planned to increase awareness in children of the pleasures associated with discovering new tastes. It is full of wonderful discoveries!
The Expo, an Occasion to Savour, Taste, Discover, Share…
With its 350 exhibitors in Montréal and Québec City, the Expo provides a multitude of gastronomic and ecological avenues to modify and improve one's eating habits and health. On its 3 educational stages, the Expo presents motivating information through its socially engaged and ethical speakers. They offer workshops, conferences and culinary demonstrations that highlight innovations and meet visitor expectations by offering healthy and natural solutions accessible to all. Discover surprising flavours, numerous meal and lunchbox ideas, anti-stress techniques, everyday ecological habits and more! Expo Manger Santé et Vivre Vert has become a large and inspiring gathering for the creation of a better future!
Don't forget to visit CulturEatz's facebook page and enter to win 1 pair of tickets for the Montreal Expo!
Expo Manger Santé
11, 12 et 13 mars 2016 at the Palais des congrès de Montréal
19 et 20 mars 2016 at the Centre des congrès de Québec
Entrance :13$
Students :11$
Seniors (65 yrs +) :11$
16 and under :Free
Did you make one of my recipes? I would love to see it. Take a photo and tag me on Instagram @cultureatz.
EDITOR'S NOTE: This post may contain affiliate links (disclosure policy). Please support CulturEatz by clicking on the links and purchasing through them so I can keep the kitchen well stocked. It does not alter the price you pay.