Are you like me right now, trying to catch my breath, running around getting the last gifts, ingredients, baking and getting everything ready by tomorrow? Deep breath, it will all work out. If you are expected to bring a dish to a pot-luck in the next days and are still at a loss of what to make may I suggest this Burnt Eggplant Salad with Green Tahini Dressing. In the last months I have brought this dish to 2 parties and it was a huge hit both times. And visually it is simply stunning.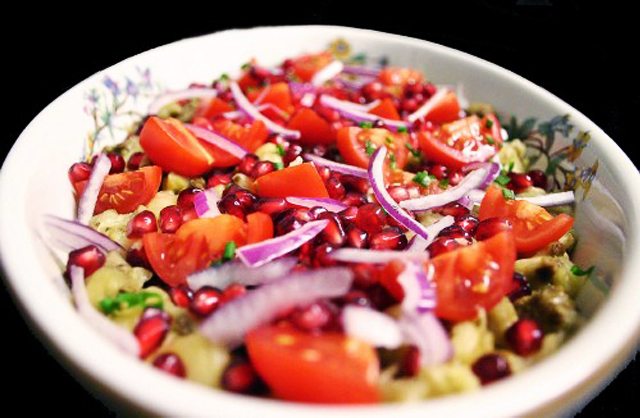 May Peace, Joy, Hope and Happiness be yours during this Holiday Season and throughout the New Year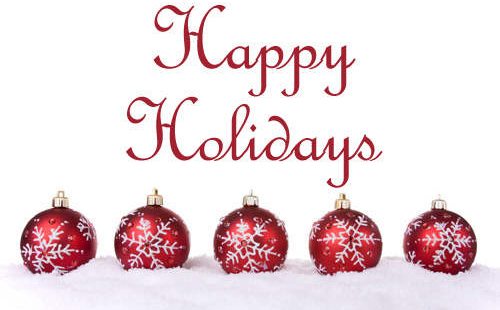 I found this recipe on the Elra's Cooking blog. This recipe is an adaption from two recipe books by the only chef I like to follow Yotam Ottolenghi. He is truly phenomenal with marrying his native Israeli dishes with other Middle Eastern flavors. The 2 cookbooks in question are Jerusalem book (which I own it is amazing) and Ottolenghi's book.
I am sure you all know someone who 'hates eggplant'. Well  at each party I had a convert and they came back for seconds. It looks exotic but the taste is perfect and balanced. This recipe is a real gem. I did substitute once the pomegranate for raspberries quite successfully when pomegranate were nowhere to be found in my market. Another variation I tried was using chives instead of parsley in the dressing. So go ahead an play around with it.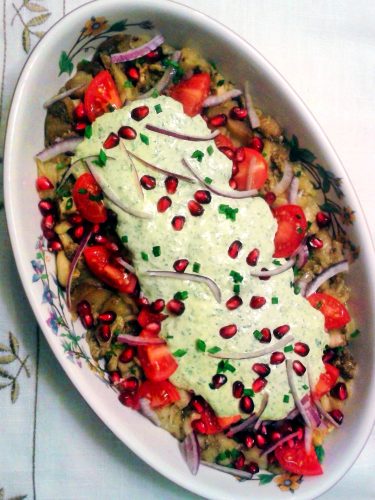 Burnt Eggplant Salad with Green Tahini Dressing
Ingredients
For the salad:

3¼ lbs eggplants
1/2 tsp salt
10 grape tomatoes, cut in half
1 tbs finely chopped chives
100 grams pomegranate seeds
1/4 small red onion, sliced - optional
Good olive oil, to serve

For green tahini sauce:

150 ml tahini paste
150 ml water
80 ml lemon juice
1/2 tsp salt
2 cloves garlic, grated
30 g Italian parsley, chopped
Instructions
Preheat oven to 400 degrees F.
Score eggplants in few places with a sharp knife and place them in a baking tray, and bake for about 50 minutes to an hour until soft, turning them every 20 minutes or so. Remove from oven and let cool. Once cooled, tear them apart with your hands, discard the skins, then roughly chopped, drain in a colander to get rid as much liquid as possible, about an hour.
Place the drained eggplant in salad or serving bowl and toss the salt in, then add tomatoes, chives, pomegranate seeds, sliced red onion if using. Spoon some of green tahini sauce (or as much as needed for the salad) on top. Toss before serving, then drizzle with some olive oil. Taste and correct the seasoning as needed.
To make green tahini sauce, place all ingredients in a food processor and process until smooth. If the sauce seems to thick, drizzle in a little bit more water until you get the right consistency you desire. Taste and correct seasoning as needed.
7.8.1.1
81
https://cultureatz.com/burnt-eggplant-salad-with-green-tahini-dressing/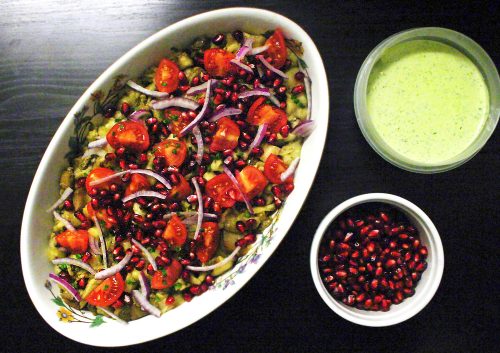 Check out more eggplant recipes here:
Did you make one of my recipes? I would love to see it. Take a photo and tag me on Instagram @cultureatz.
EDITOR'S NOTE: This post may contain affiliate links (disclosure policy). Please support CulturEatz by clicking on the links and purchasing through them so I can keep the kitchen well stocked. It does not alter the price you pay.