Yeah, I know! Quite a title for the first post of 2010, right lol. Gimme a minute it will make sense.
So I hope everyone rung in the New Year in their favorite way.I wish you all love, happiness, success and delicious smells from the kitchen!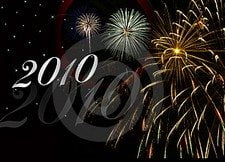 And now today starts: the RESOLUTIONS!!!!!!!!! Scray word.
I honestly did not make one, at least not in the traditional way. I was off this week and my plan during the day time was to accomplish a task I have been putting off for months (years): a massive clean up of my place. I am not talking spring cleaning here. I mean take every drawer out of the dresser, then do the keep pile, give pile and garbage pile. Then vacuum the drawer, dresser, destroy the dust bunny armies behing the drawer and but everything back together again. Honestly my progress has been slow but steady. I am after all on holiday so I lounge hours in the morning and then maybe go out at night to friend's, etc. But so far I have done my bedroom, bathroom and two other full double closets. So far I have filled 6 large garbage bags of stuff to give (alredy done) and 3 garbage bags of garbage. Left to do are the kitchen, dining room and living room.
Honestly its a lot of work but it feels great. I feel like I lost 100 pounds. Now here is my goal for 2010. Keep cleaning and keep it clean: in my head (break psychological vicious circles), in my health, in my things, and in my body. Just do it bit by bit. Its not a resolution. I am just, for now, motivated and will ride the wave as concsiously as I can.
So of course part of that is loosing weight. But again I am not setting myself up for failure. No diets!. Just cut here and there, mostly exercise. Anything, a daily walk. I have along way to go here. So I thought it was funny when I received an email from a PR agency announcing "the Biggest Loser Resort at Fitness Ridge and Driscoll's Berries who have teamed up to create a recipe to satisfy your sweet tooth without breaking your calorie bank in the New Year".
How can I not share this recipe with you? Obviously use any berries you have available to you.
Berry Explosion Cobbler
Servings: 9

1 cup chopped fresh Driscoll's strawberries
1 cup fresh Driscoll's raspberries
1 cup fresh Driscoll's blueberries
1 cup fresh Driscoll's blackberrie
2 tablespoons maple syrup
1 tablespoon cinnamon
Topping:
¼ cup instant oats + ½ cup instant oat
¼ cup pecans
1 tablespoon soy butter
1 teaspoon cinnamon
3 tablespoons agave nectar
Preheat oven to 350 degrees. In a 9×9 pan, spray with non-stick cooking spray.
Layer fruit on the bottom of the pan. Then drizzle the maple syrup over the fruit.
Sprinkle the cinnamon over the rest of the fruit.
In a food processor, add ¼ cup instant oats, pecans, soy butter, cinnamon, and agave nectar. Blend until all lumps are gone and everything is evenly chopped. Add to a mixing bowl the remaining ½ cup of instant oats and mix together.
Sprinkle mixture over fruit.
Bake for 1 hour or until fruit sets. Cool for 15 minutes and serve.
Per serving: 166 calories, 7 grams fat, 4 grams protein, 32 grams carbohydrates, 4 grams dietary fiber
EDITOR'S NOTE: This post may contain affiliate links (disclosure policy). Please support CulturEatz by clicking on the links and purchasing through them so I can keep the kitchen well stocked. It does not alter the price you pay.