A common question I get is: "What are some of your favorite products that you have received from the care packages you have received from the Foodie Exchange? Of course here are quite a few:the hickory smoked salt, saffron, the best mint teat ever from England, Pequin chilies, clotted cream fudge, Conney Island mustard, and Italian nougat. The list goes one and on.
But there is one item I received that has really knocked my socks off. Hello, my name is Evelyne and I am Speculoos Spread Addict.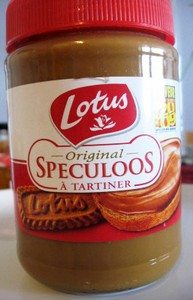 Never in my life would I have believed I would become addicted to a spread used on toasts. I actually like my toasts plain enough with a smidgen of butter normally. But this stuff is so good I cannot get enough of it. Yes I have gone in with just a spoon and straight to the mouth. Never heard of Speculoos? Neither did I until I got a jar. But a little research online quickly convinced me I am not the only one spellbound by this product.
A bit of background on Speculaas from wiki.
Speculaas is a type of shortcrust biscuit, traditionally baked for St Nicholas' Eve in the Netherlands (December 5) and Belgium (December 6). Belgian varieties use no or less of the spices and are sold as speculoos. In recent decades it has become available all year round. They are thin, have a caramel taste, are very crunchy, and slightly browned. Speculaas dough does not rise much. Spices used in speculaas are cinnamon, nutmeg, cloves, ginger, cardamom and white pepper. Most Speculaas versions are made from white flour, brown sugar, butter and spices. The most significant characteristic is that these cookies have some image or figure stamped on the front side before baking while the back is flat.