It seems like there is an influx of invitations to restaurant openings and product launches right now. It happens a lot with the arrival of spring. Most events I cannot be bothered with that much but there are exceptions. If something really grabs my attention and peaks my curiosity I will be there. And that is how I was introduced to a new product from Rise Kombucha by receiving an invitation for the launch of their two new flavors: Mint Chlorophyll and Rose Schizandra.
The curiosity word here is Kombucha. What the heck is it? The company calls it sparkling living tea. A more complete explanation would be that Kombucha is a sweetened tea that is fermented with a yeast, called Mother culture, thus creating effervescence.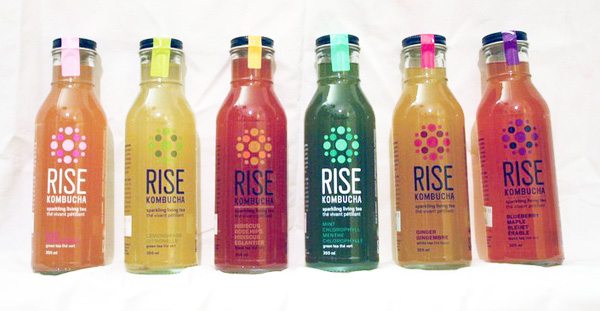 This is hardly a new product, there are claims that the history of this beverage goes back 2000 years in China or Japan. So it covers my ethnic food attraction plus it is a local, raw, organic, vegan and a fair trade product. The Rise Kombucha company is located in my city of Montreal. Actually they are located 3 blocks away from where I work. So before the official launch party I asked for a visit of their brewery. I could not take too many pics to reasons of corporate secrecy but you will still get a unique glance here.