At the beginning of this month, I announced that I would be hosting Food 'n Flix with my chosen movie Bridesmaids. I love all the groups I am part of but I have to say there is a level of exchange with this group I just don't get with others. Not only do we cook from a same inspiration, we also discuss the movies. It creates a real virtual conversation. And this month we welcomed 2 new members: Wendy and Joanne. We hope to see them regularly and perhaps you would like to join?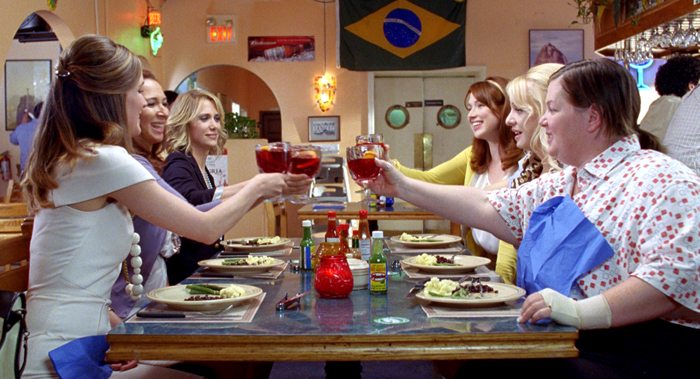 Many saw this movie for a 2nd or 3 rd time, and a lot saw it for the first time. And boy were the opinions varied this month. Like many who saw Bridesmaids for the first time this month, I have to admit the first time I saw the movie I was not super crazy like everyone else was. There is a lot of slap stick comedy.
I know I am not alone with my initial reaction but I found a really good quote online from Roger Ebert saying this movie: "seems to be a more or less deliberate attempt to cross the Chick Flick with the Raunch Comedy. It definitely proves that women are the equal of men in vulgarity, sexual frankness, lust, vulnerability, overdrinking and insecurity." I did see it again a year later and really enjoyed it. I got passed the gimmicky stuff and saw more into the heart of the movie. For this challenge I now saw it for a 3rd time and I can definitely say it is a favorite comedy.