This recipe is so overdue, I made this recipe back in early November. I have so many recipes piled up lol.
In November we had our annual corporate weekend where the bosses pay for a little one night weekend getaway in the country…as long as we endure the 2 hour long annual meeting. It's actually not that bad. This year we were in Saint-Sauveur, a tourist ski Mecca. The fancy hotel was located right across the street from a shopping center. In this outlet mall there is a food store I absolutely adore. It is not fancy and set up like a warehouse but there is one beautiful jewel spot in there: a walking 3-aisle cheese refrigerated room. O-M-G! That will be another post one day.
They usually have a few exotic veggies and fruits. I already posted about the Salsify and the Topinambour. I had one remaining discovery that I am finally posting today. It is a mushroom called in French (on the package where I bought it): Champignon Pied de Mouton. The word for word translation would be Sheep's Foot Mushroom.
But after some research online that is not the English name, the right name is Hedgehog Mushroom. Now here is the really funny bit. A few days prior to the discovery of this mushroom I did a favor for a friend who need to have someone drive her 45 minutes out of town to pick up her new pet…a hedgehog. Can you believe the coincidence?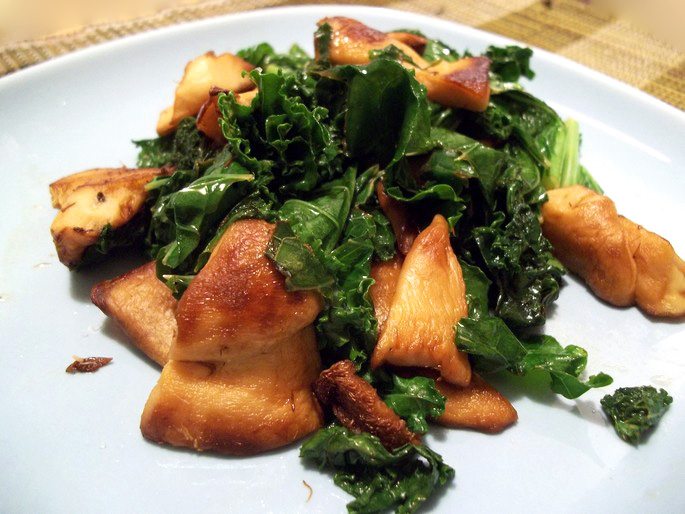 A little wiki: from the Hydnaceae family, it is notable for its spore-bearing structures which are shaped like teeth rather than gills. It is broadly distributed in North America and Europe and found singly or in groups in coniferous or deciduous woodland.
I wanted a recipe that would showcase the flavor of the mushroom and settled on this recipe. The light bitterness of the kale was a perfect match for the sweet and nutty taste of this crunchy mushroom. And everything remained a bit crisp and not over cooked.
Ingredients
2 bunches of kale
2 tbsp lemon juice
1 lb fresh hedgehog mushrooms (or any other variety of wild mushroom)
unsalted butter
olive oil
salt and fresh cracked pepper
Instructions
Rough chop the hedgehogs and saute them in butter with a little olive oil.
Wash and rough chop the kale.
When the hedgehogs take on color and become tender, add the kale and lemon juice. Continue to saute just until the kale has wilted.
Add a tablespoon or two of butter and toss before serving. Sprinkle with a bit of salt and fresh cracked pepper.
http://cultureatz.com/kale-hedgehog-mushroom/
As I mentioned before, I have so many recipes piled up on my computer it is ridiculous. But I am in a February/end of winter blah period. I am so lazy I barely even cook dinner. Take out is so much more tempting. The food options for restaurant delivery in Montreal is astonishing, especially in my neighborhood. You find your classic Chinese, Italian and Greek restaurants. But I can also get Jamaican, Korean, Indonesian, sushi, Mexican, Tibetan and Lebanese…too name a few. Montreal is awesome for ethnic food variety. You cannot get bored ordering out and it is as easy as a simple call or an online order nowadays from one central company that works with several restaurants. Love it as an occasional treat.
What do you do when you are really not in the mood to cook?