Have you WIAW lately?
Someone in my RSS feed posted their What I Ate Wednesday a while back and I thought the idea was so cool I had to participate at least once. This fun innovative idea comes from Peas and Crayons. It was a personal weekly project that caught on.
All you have to do is photograph a day of meals any day of the week and create a What I Ate Wednesday post. Of course it does not have to be Wednesday food only, nor does it have to be the food you ate in only one day. I have posted a breakfast, a lunch and a dinner (plus drinks and snacks) from different days but together they make a day of meals. Kinda cool to look back at how you eat…and even better how others eat!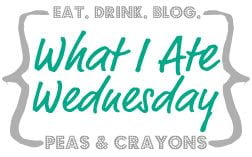 So what I ate on this virtual day:
For breakfast I had a bowl of granola with a few slices of cantaloupe and my personal Ayurveda herbal tea. I have not blogged about Ayurveda herbal healing mixes but I could…any interest?
At work 2 coffees in the morning, always. We have a Nespresso machine. After that it is water, water, water.
For lunch I went out with my colleagues to a Japanese restaurant. I was tempted by the Chicken Bento box. Lots of salad, tempura veggies and sushi. It was huge.
For an afternoon snack I had a couple of clementines and a bit of dark chocolate.
A very lazy dinner. The breast of a store bought BBQ chicken served with Asian frozen veggies with a Chow Main sauce over rice.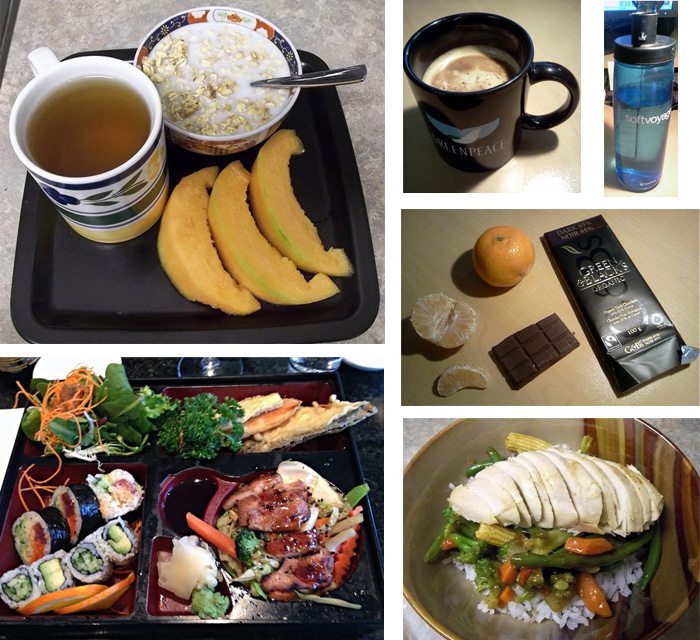 After you have posted you can go link up to the Peas and Crayons WIAW of that week and add your url to the inlinkz.