Yes those are 2 different statements lol.
First, why I may have officially lost my mind?
Recent events and talks made a project take shape in my head. I just officially announced and invited today 67 of my closest foodie/blogger/movie friends to my large but still 1 bedroom apartment for the 1st annual Cheap Ethnic Eatz food film marathon and pot luck. It will take place in mid October for 12 hours and for sure you will be reading about it, before and after the event.
I am toying with the idea of a small contribution fund raising effort too for some food related Montreal organization and maybe get a few sponsors to donate food or cookbooks/ingredients/items for prizes during the marathon. Would you like to donate something? contact me at worldethnicfood at hotmail dot com.
And yes these are all friends, remember I had a dinner group for 4 years where 500 ish members came and went so I made lots of real friends in there. Look I even have a logo ha ha:
1st annual Cheap Ethnic Eatz food film marathon and pot luck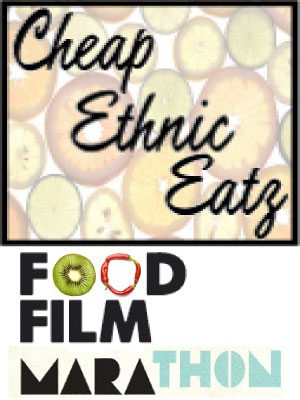 And now for my Major Rant:
This related to a group on facebook I belong to. I need to BITCH.
So this group was started by a food blogger and is exclusively for food bloggers in Montreal city. Fantastic! Except that like 80% of them work in marketing/media/promotion, etc…aside from their personal blog. So most of them get invited to all the media events and I mean all of them. I call them the elite club. I get plenty of invites and I don't need to be invited to everything…but they seem to be rubbing it in everyone's face in a subtle way at times. Most topics there start off with: Who got invited to….But then things took a weird turn this week.
– Chef Gordon Ramsy bought, revamped and opened up a restaurant in Montreal this week called Laurier Gordon Ramsy. I got my reservation with friends coming soon! Anyways in this facebook group someone posted a link to an article in Montreal's major french newspaper where the journalist wrote about why do we all of a sudden have a few international chefs come here, put their cooking paw in a resto and claim that Montreal has been put now on the International food map. Hello, we are on of the top food cities! This got a huge debate going in the group.
– A few weeks ago some people founded an association for Quebec food bloggers with an actual statement and everything. Like an official association for food bloggers? Ok fine why not, I have a rough estimate that there are about 100 food bloggers in Montreal alone. But again more then half the comity who have their own blog…..work in PR, communications, media, etc. Oh so very objective…NOT.
– And the last straw that broke the camel's back: a big discussion was started after someone suggested we should establish a comity that would review Montreal food blogs and give them a stamp of approval (perhaps a logo) that WE ARE AUTHENTIC AND HAVE INTEGRITY in our blogs.
W———-T———-F ???????????? Have they all completely lost their freaking minds? We are hobby food bloggers! I may get in trouble for my next statement: most of these bloggers in this group REVIEW food, they don't post recipes they make AND most of them are francophone….the anglophone bloggers kind of take a back seat. Why? There has to be a psychological angle here somewhere (which I have my opinions on but this is not the place for it…and let me precise I am Francophone first, Anglophone second)
I broke down and really gave my opinion today in that group and wrote the following (translated…of course I wrote it in French there):
I write ​​my blog because I am passionate in my interest for great food. I rarely do restaurant or product critiques now, very occasionally but there is nothing wrong with it either. I mostly cook and I share my recipes. I get the occasional invite to a food media event or launch. I never feel compelled to make a follow-up afterwards, only if I want to. I do not want to know anything about being in a milieu where I could be judged for it. I find the PR houses could open their doors a little wider for those who are invited to events since it is always the same people who are invited…an elite few, no? There are at least 30 (60) other bloggers in Montreal which are never invited. I do not care really what the world media writes on Montreal or our view of food….. it lasts 5 minutes and people forget.
I do not want to bitch so grandiosely, a gift I have sometimes and now I am pumped (sorry nothing personal), but there are a number of members in this group who never speak yet chat with me…right now we are speechless.
If you are one of the few who make your livelihood with your blog … set up your rules of etiquette but under a RECOGNIZED professional order only, I have no problem with that.
But if your blog is a hobby that creates a little mad money…..can we please take ourselves a little less seriously?
Am I exaggerating, am I overly emotional about this or do you see a problem here to? Do you have such issues in your home city with fellow food bloggers?