Today is my group's reveal day for the Secret Recipe Club. What is the SRC? Basically you are assigned a fellow participant's blog by the organizer and then you pick a recipe of your choice from that blog and make your version of it. But it is a secret, you cannot reveal whom you picked and what you made until the established posting date and time. This month I made 2 secret recipes: Creamy Chicken Stuffed Shells and Caramel Mock Apple Bites.
And here is a third secret: I have a fabulous giveaway for you all today. I receive a complimentary copy of the Homemade Condiments cookbook and I was given an extra copy for a giveaway. That is right, one lucky reader will receive their very own copy of this essential book for your cookbook collection. Info at the bottom of the post.

This month I was assigned Blueberries and Blessings which is authored by Pam. So what have I taken away from Pam's blog after visiting an uncountable amount of pages? Don't take life to seriously and enjoy every minute. Learn what matters and forget the rest, like the dishes lol. Pam's life is crazy busy with a happy happy home which includes her hubby, her son and a menagerie of animals. Oh and she LOVES NASCAR.
I have also taken away from her blog a long list of to-do recipes. And I think it is a first that I prepared 2 recipes, not just one, from an SRC assignement. I made the Caramel Mock Apple Bites and the Creamy Chicken Stuffed Shells. Besides the fact that these recipes are delicious yet simple to make, they both contained in the list of ingredients two condiments I made from scratch from the Homemade Condiments book : gorgeous Caramel Sauce and a creamy Mayonnaise.
I really liked the idea of the Caramel Mock Apple Bites. I do like the occasional caramel apple but it is often too much for me to finish in one setting. This smaller version with grapes was to adorable and a lot less guilt free. All I did was cook a bit of my caramel a tad longer so it would have candy consistency.
I am not sure if I have ever prepared a dish with pasta shelles myself. They are a childhood memory treat. But I could not pas supt the chance of trying the Creamy Chicken Stuffed Shells which are oven backed in a delicious sauce with Cajun seasonings…from the can I just bough on my recent trip to Louisiana. And of course the chicken is mixed with a luscious homemade mayonnaise.
Now let me introduce you to the Homemade Condiments: Artisan Recipes Using Fresh, Natural Ingredients
 cookbook by Jessica Harlan. Discover the benefits of making your own fresh, healthy, all-natural condiments, sauces and dressings, free of the preservatives and artificial colors and flavorings found in the store-bought versions. For the tastiest, home-cooked meals, you need amazing condiments.
Homemade Condiments shows offers classic and gourmet twists on your favorites, including: Smoked Tomato Ketchup, Whiskey-Spiked Barbecue Sauce, Grainy Porter Mustard, Roasted Red Pepper Aioli, Sweet Pickle Relish, Rooster-Style Sauce, Roasted Garlic Olive Oil, Blue Cheese Dressing, Sweet Chili Sauce, and Hot Fudge Sauce. *** Recipes reprinted with permission from publisher.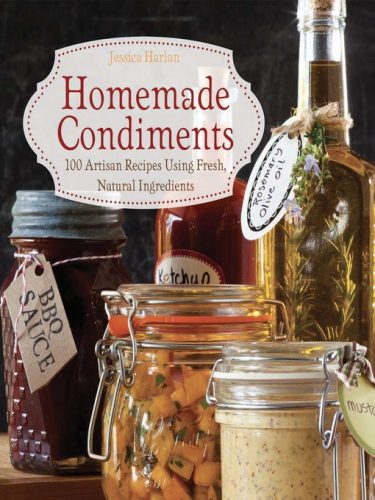 Don't be afraid of making real, honest-to-goodness Caramel Sauce. The process of caramelizing sugar can be daunting, but the result is well worth the effort! An uncoated stainless steel saucepan is preferable, as the dark finish of a nonstick pan makes it difficult to watch the color of the sugar as it caramelizes. Best of all is a saucier pan — the sloped sides allow for even cooking and stirring. Caramel can go quickly from perfect to burnt, so keep a close eye on the pan.
Mayonnaise is easy to make from scratch, and it has a creamier, more complex flavor than the store-bought version. The disadvantage is that it does not keep as long as commercially prepared mayonnaise. A batch of homemade mayo should be used within a few days. If you don't think you can use up the entire amount within a few days, the recipe is easy to cut in half.
AND NOW FOR THE GIVEAWAY!
Get your very own copy of the Homemade Condiments cookbook! Here is what you have to do to enter the contest:
– Leave a comment in the post!
Extra entries…
– Follow Cheap Ethnic Eatz on Facebook and leave separate comment.
– Follow Cheap Ethnic Eatz on Twitter and leave separate comment.
– Tweet I just entered the Homemade Condiments Cookbook GIVEAWAY with @cethniceatz at http://cultureatz.com/?p=11580 Ends April 13, 2014 and leave separate comment.
– US and Canada shipping addresses only!
You have till April 13, 2014, 23h59 EDT to enter. GOOD LUCK!